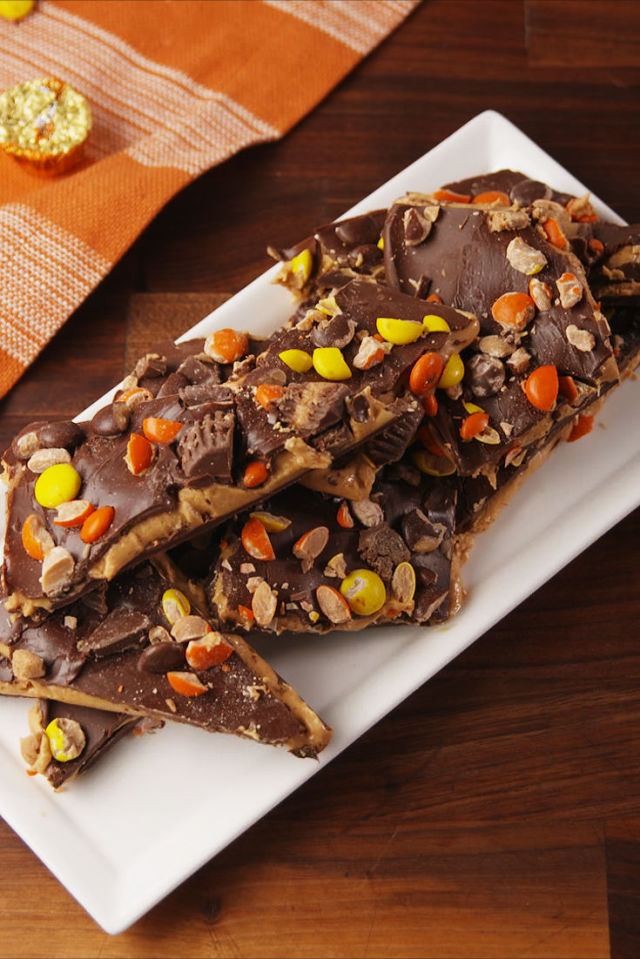 Great to make over the holidays is this Loaded Reese's Bark, so easy to make and I am more than sure everyone will love it and be asking you to make some more just as well that it is simple to make
I certainly will be giving this recipe a go myself so I was so pleased when I found it
This great recipe has been brought to you by Delish on YouTube and delish.com website, thanks for sharing this recipe with us
Here below is an excerpt about this recipe from the  YouTube
If you love Reese's Peanut Butter Cups, then you'll go nuts for our Loaded Reese's Bark. Just be sure to prepare yourself for the chocolate-peanut butter coma this will send you into.
Here for you is the recipe and the video tutorial both from the YouTube channel
INGREDIENTS
4 c. semisweet chocolate chips, divided
2 tsp. coconut oil, divided
2 c. peanut butter
2 c. powdered sugar
1/4 c. Butter, softened to room temperature
1/2 tsp. kosher salt
1 c. Reese's Pieces, chopped
10 Reese's Minis, chopped
DIRECTIONS
1. Line a 12" x 17" baking sheet with parchment paper.
2. Melt 2 cups chocolate chips and mix with 1 teaspoon coconut oil. Spread it on the wax paper in an even layer and place in the refrigerator to harden.
3. Combine peanut butter, powdered sugar, butter and salt and beat with a hand mixer. When smooth and fluffy, spread evenly over chocolate layer. Place back in the refrigerator to harden.
4. Melt the remaining chocolate chips and mix with remaining coconut oil. Spread over peanut butter in an even layer and sprinkle with chopped Reese's and Reese's pieces. Place back in refrigerator to set, 10 minutes.5.
5. Break apart into large chunks and serve.