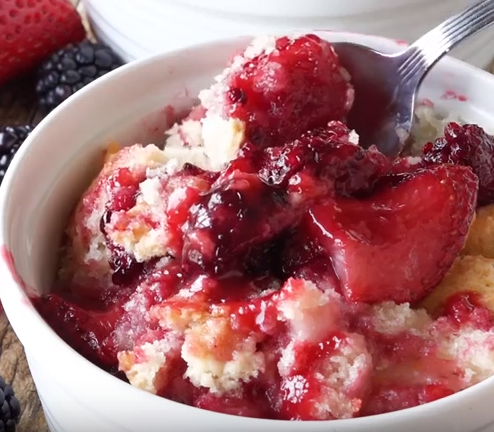 Today here at Afternoon Baking With Grandma we're showing you how to make an old fashioned cobbler, this is a recipe you can use with any fruit, peaches, berries, nectarines, plums, anything you want to make a cobbler out of,this is your recipe for it.
For this recipe I'm using a combination of strawberries and blackberries.
Start by preheating your oven to 350 degrees and lightly grease a 9″ by 13″ pan, start with 3 pounds of whatever fruit you're working with in a mixing bowl and pour in the juice and zest of one lemon, then add in 1/3 a cup of sugar, 2 teaspoons of cornstarch, and 1/2 teaspoon of vanilla.
Mix this together and then just pour this directly into your prepared pan, spread it out into an even layer. Right, now set this aside and start working on our cobbler topping
Now you can be truly old-fashioned and use a pastry cutter to make this part, but for this recipe I'm using a food processor.
So into the food processor you need two cups of flour and then add in 3/4 of a cup of powdered sugar, a tablespoon of baking powder and a teaspoon of salt. Put the lid on and give this a quick poll, then add in the butter, and this is the part that you'd use a pastry cutter to cut it all in but the food processor makes this super fast and simple.
I cut all my butter pieces into little chunks so that it's easier for the food processor to get it all.
Put our lid on and give it a little pulse until it looks like sand almost. Right, now slowly pour in one cup of half-and-half and give it another little pulse and you should end up with a nice wet dough, spoon this in clumps right over your fruit, doesn't have to be pretty, clumps are just fine.
You just want to make sure you cover the whole top of the cobbler. I thought I didn't like cobbler but that's just because people are making it with cake mixes instead of this old-fashioned sweet biscuit dough, it's totally delicious.
Now pop it in the oven for one hour, when it is cooked you can cool it a little and serve it up warm, you can top it off with a little scoop of ice cream or whipped cream or just eat it plain.
Thanks for reading this, you can find the full recipe below and I just know you are going to love this fruit cobbler no matter what fruit you use.
Prep Time: 10 minutes
Ready In: 1 hour, 10 minutes
Yield: Serves 6 to 8
Ingredients 3 pounds fresh fruit, prepared
1 lemon, zested and juiced
2 teaspoons cornstarch
1/2 teaspoon. vanilla extract
1/3 cup white sugar
2 cups all-purpose flour
3/4 cup powdered sugar
1 tablespoon baking powder
1 teaspoon salt
1/2 cup cold butter, diced
1 cup half and half