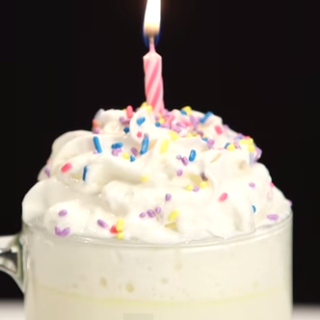 Why not make yourself a hot chocolate on your birthday with this really delicious birthday cake chocolate recipe .
Most of us love hot chocolate so why not give this one a try even if it is not your birthday , great for girly sleepovers as it is really easy to make , this recipe is brought to you by Brandi Milloy on POPSUGAR Food on YouTube
Here is an excerpt about this hot chocolate from Brandi Milloy on YouTube Channel
Are you ready for birthday cake hot chocolate? Life is simply just better now that we've created this insanely delicious drink recipe. I'm such a sucker for anything that's chocolate and covered in sprinkles, so our team whipped up a warm hot chocolate with a funfetti twist! Trust me, one sip and you'll never go back to that regular cocoa again.
Here below is a list of the ingredients you will need from the YouTube channle
Birthday Cake Hot Chocolate

INGREDIENTS

1 cup milk of your choice
1/4 cup (2 ounces) white chocolate
1/8 teaspoon vanilla extract
1/8 teaspoon butter flavor, like Wilton (found in most grocery stores)
Whipped cream, for garnish
Rainbow jimmies, for garnish
Full written recipe is available on the YouTube channel please use the next page link below