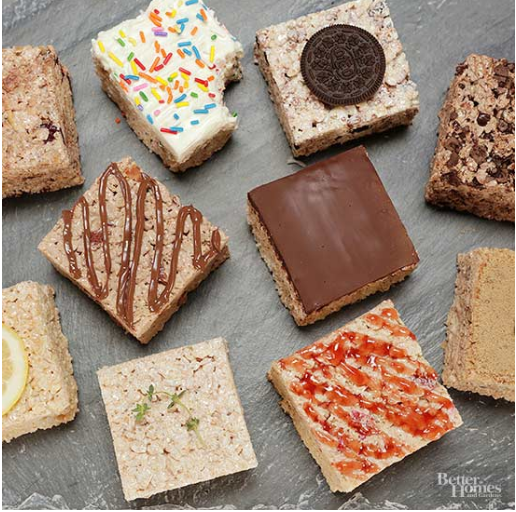 Marshmallow creme is such a great ingredient to use in desserts .. it makes such amazing  mouthwatering desserts that I just had to look for some for you to try out so how about these 10 marshmallow treats  that looks so good I just couldn't pass this recipe by without sharing it with you
So come on fellow bakers there is no excuse no for not picking up that jar of Marshmallow creme when shopping
Marshmallow creme is an American confectionery. It is a very sweet, spreadable, marshmallow-like confection…. simply delicious
This great dessert recipe is brought to you by bhg.com website, thanks for sharing it with us
Here below is an excerpt  from the website about this dessert plus a list of the ingredients you will need
10 Ways with Marshmallow Treats
There is other ingredients for each recipe
BIRTHDAY CAKE
 1/2 cup assorted jimmies . Frost with desired frosting before serving.
OREO
Use 8 cups of crisp rice cereal and 5 cups of chocolate crisp rice cereal, 2 cups chopped Oreos
MOUNDS
Replace the butter with coconut oil. Stir in 1 1/2 cups shredded coconut  Once treats have been cooled, spread top with melted dark chocolate
MOCHA
Replace cereal with chocolate crisp rice cereal. 1/2 cup semi-sweet chocolate chips and 2-3 tablespoons espresso powder . Sprinkle with cup crushed chocolate covered espresso beans
TRAIL MIX
 13 cups of crisp rice cereal. 1 1/2 cups of chocolate chips, candy coated milk chocolate pieces, pretzel pieces, pumpkin or sunflower seeds, nuts, dried fruit, and/or yogurt bites with the cereal.
PB & J
 2/3 cup creamy peanut butter , 1 cup dehydrated strawberries and drizzle with melted strawberry jam.
BROWN BUTTER AND THYME
 2 sprigs fresh thyme ,sprinkle with 1 teaspoon coarse sea salt before pressing.
LEMONADE
 1 cup lemon curd ,a few drops of yellow or pink food coloring, 2 teaspoons lemon zest
PECAN PIE
 13 cups of crisp rice cereal.  1/2 cup caramel ice cream topping and cup semi-sweet chocolate chips  1  1/2 cups chopped pecans, Sprinkle with brown sugar
BACON NUTELLA
2/3 cup Nutella ,16 oz package bacon,  Drizzle with additional Nutella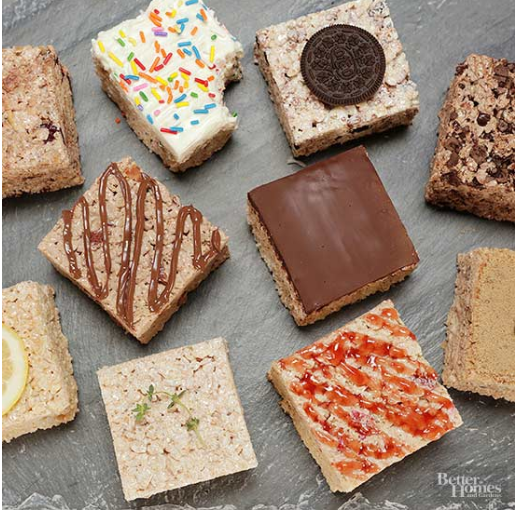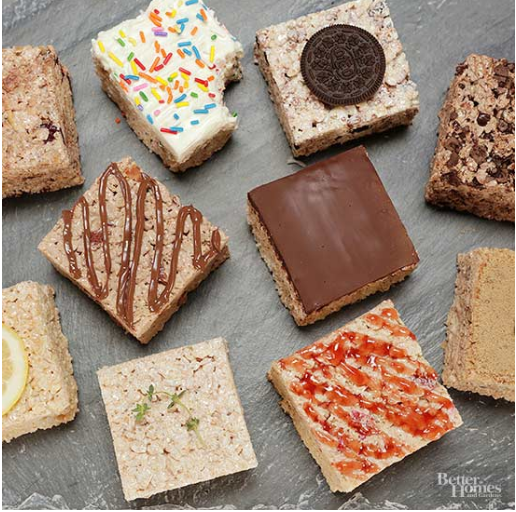 To Get The Recipe Please Use The Link Below