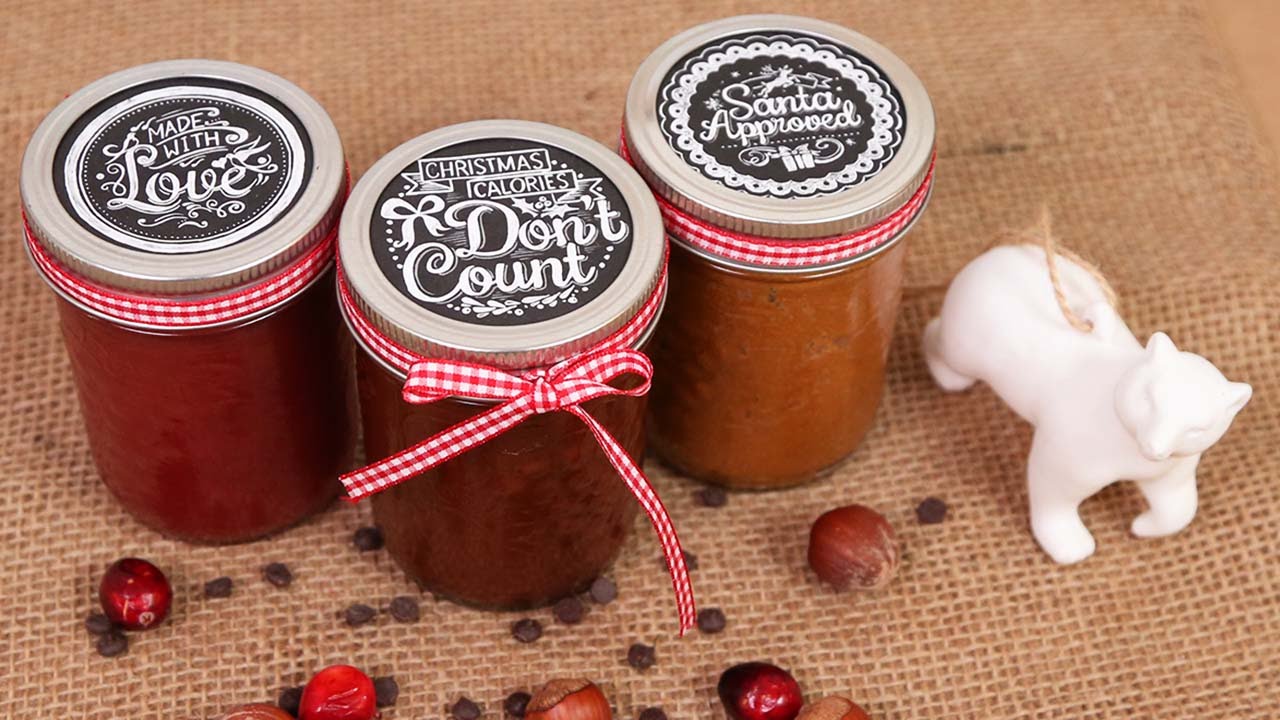 I really love these recipes as it is for 3 amazing spreads to make for Christmas for your family or friends to enjoy that sound so delicious, these spreads are Homemade Nutella,Homemade Cookie Butter and Homemade Cranberry Apple Butter which all sound so amazing , you could make them for yourself or even give them as presents , I really love this video tutorial
This great video tutorial is brought to you by The Domestic Geek on YouTube , thanks for sharing these recipes with us
Here below is the video tutorial to watch to see how to make these spreads plus a list of the ingredients you will need to make each from the YouTube channel
Homemade Nutella
1 cup hazelnuts, shelled
1 cup semi-sweet chocolate chips

1. Preheat oven to 350°F.
2. Spread hazelnuts in a single layer on a baking sheet.
3. Bake at 350°F for 10-12 minutes; be careful they don't burn.
4. Transfer hazelnuts to a clean dish towel and rub vigorously to remove the skins.
5. Place the warm hazelnuts in a food processor and blend until they have the consistency of peanut butter; 5-7 minutes. Scrape down the sides regularly.
6. Add chocolate chips and blend until chocolate is totally melted and mixture is smooth.
7. If mixture is too thick, add vegetable oil ½ tsp at a time until you've reached your desired consistency.
8. Store in the refrigerator for up to 1 week.
9. Enjoy!
Homemade Cookie Butter
2 cups cookie crumbs (any cookie you want!!!)
¼ cup butter
½ cup sweetened condensed milk

1. Add cookies to the bowl of your food processor and pulse until they become fine crumbs.
2. In a small saucepan melt butter over medium heat.
3. Stir in condensed milk until it's completely combined.
4. Pour butter mixture into the food processor and pulse until the cookie butter is completely smooth.
5. Store in the refrigerator for up to 1 week.
6. Enjoy!
Homemade Cranberry Apple Butter
2 cups fresh whole cranberries
8 apples
1 cup apple cider
1 cup maple syrup
2 cinnamon sticks

1. In a large Dutch oven or soup pot combine apples, cranberries, cider, maple syrup and cinnamon sticks.
2. Bring mixture to a boil then reduce heat to medium-low, cover and simmer.
3. After 30 minutes, use a potato masher to mash mixture and release the flavor from the apples and cranberries.
4. Simmer for 1 hour, stirring regularly, until the apples are completely soft.
5. Turn off heat and strain mixture through a fine mesh sieve into a second pot or a slow cooker.
6. Set heat to low and continue to cook for 2-3 hours or until the mixture has reached your desired consistency.
7. Store in the refrigerator for 2 weeks or in the freezer for 6 months.
8. Enjoy!