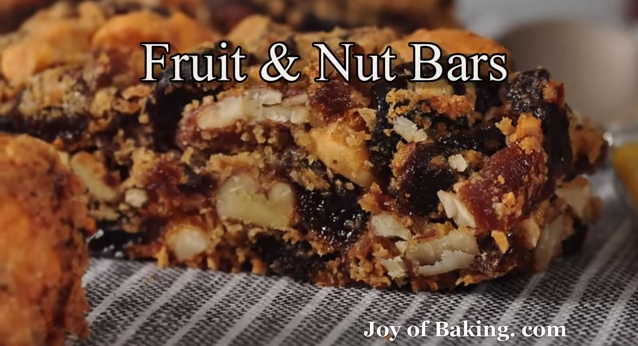 A really fab tutorial showing you how to make theses fab Fruit and Nut Bars  ..  a very good treat for a mid morning snack with a cuppa for for a afternoon tea .. they look yummy  so much so I wanted to share the recipe with  you .. a great tutorial to follow that I am sure you will love to try for yourself .. take a look at the video tutorial to see how to make these bars
Here is what Stephanie Jaworski of Joy of baking has to say about these bars
These Fruit and Nut Bars are decidedly different from the other bars and squares on the site. Crisp and chewy in texture, they are full of dried fruits and nuts, that are held together with a batter that contains no butter or oil, just one beaten egg. These make a healthy to-go breakfast, a great snack to pack in lunchboxes, or they would be perfect to take along on your next picnic or hike.
Click the link below to see how to make these fab bars
Originally posted 2015-02-07 09:47:29.