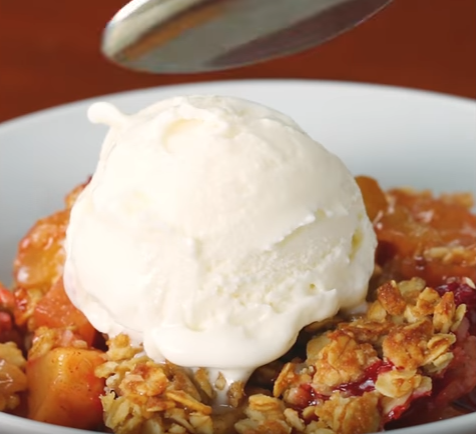 A really simply and delicious dessert to make for that weekend treat is this crnberry7 apple crisp , I think the combination of the two fruits is so good but don't take my word for it why not make one this weekend, serve it warm with cream or ice cream and you are onto a winner
This great recipe has been brought to you by Tasty on YouTube, thanks for sharing this recipe with us
Here below is the recipe and the video tutorial both from the YouTube channel
Here is what you'll need!
Cran-Apple Crisp
Servings: 8
INGREDIENTS
Filling
5 apples, diced
½ lemon, juiced
1½ cup cranberries
2 tablespoons cornstarch
3 tablespoons sugar
¼ cup maple syrup
1 teaspoon cinnamon
Topping
1 cup rolled oats
⅓ cup brown sugar
3 tablespoons flour
4 tablespoons butter
½ teaspoon salt
Ice cream
PREPARATION
1. Preheat oven to 350˚F/180˚C.
2. In a large bowl, gently combine apples, lemon juice, cranberries, cornstarch, sugar, syrup, and cinnamon.
3. Pour into a 9×13-inch baking dish and bake for 30 minutes.
4. In another bowl, combine oats, brown sugar, flour, butter, and salt until well-incorporated.
5. Sprinkle the oat topping evenly over the baked fruit and bake for another 15 minutes, or until the crust is golden brown.
6. Serve with ice cream on top.
7. Enjoy!