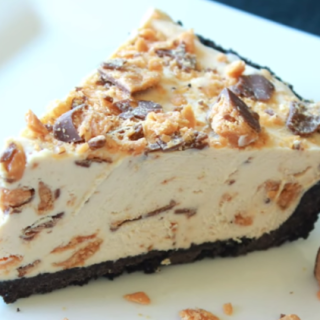 A really great dessert to serve to your guests at a party or to your family at a weekend.
I really love this recipe as you can make it well in advance, it looks so good with that cookies crumb base and the creamy frozen filling that it will be hard to resist not making it today.
Here below is an excerpt about this recipe and the ingredients you will need along with the video to watch
Learn how to make this amazing no-bake frozen peanut butter Butterfinger pie! This is quick to throw together and is great on hot summer days. You can sub the Butterfingers for Snickers or Reese's Peanut Butter Cups or any other chocolate and peanut or pb candy bar.

What you'll need:

24 Oreo cookies
4 Tbsp butter or margarine, melted
8 oz cream cheese, softened
7 oz sweetened condensed milk (not evaporated)
1/2 cup peanut butter
1/4 cup powdered sugar
8 oz container Cool-Whip or whipped topping
10 fun size Butterfinger candy bars, cut into pieces
A full written recipe is available on the YouTube channel use the next page link below