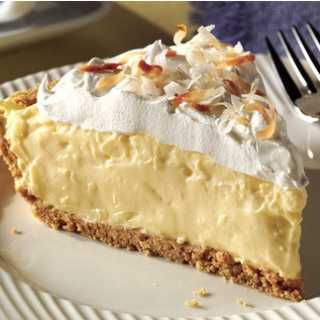 If you want a simple dessert you can bring to your potluck, try this Easy Coconut Cream Pie. I am sure everyone will rave about it.

Pre-made graham cracker crumb crust and instant pudding make this Coconut Cream Pie so easy to prepare. Adding whipped cream and toasted coconut flakes on top made this dessert a complete package.

You can toast the coconut flakes in the skillet but if you are using an oven, just make sure to keep an eye on it. Coconut flakes should be light brown only.

If you want an intense coconut flavor, you can replace one vanilla pudding package with coconut cream pudding. However, if you are having a hard time looking for this instant pudding flavor, you can use the two vanilla instant pudding and add a teaspoon of coconut extract. You can add more extract based on your preference though this is just an optional ingredient.
Ingredients for Creamy Coconut Cream Pie
For the Crust:
1 (6 oz) ready-to-use graham cracker crumb crust
For the Filling:
2 package (3 oz) Jell-O vanilla flavor instant pudding
2 cups cold milk
1 cup whipped cream
3/4 cup coconut flakes
For the Toppings:
1 cup whipped cream
1/4 cup coconut flakes, toasted
Optional:
coconut extract
How to Make Creamy Coconut Cream Pie

For the filling: combine instant pudding and milk in a bowl. Whisk for about 2 minutes, and then add the whipped cream and coconut flakes. You can also add one teaspoon of coconut extract if you are using this optional ingredient. Mix well and pour into the premade crust. Put in the fridge for 4 hours until set.

While waiting, toast the ¼ cup coconut flakes in the oven for about 7 minutes at 350°F. Set aside and allow to cool.

Before serving, spread the 1 cup whipped cream on top and sprinkle with toasted coconut.

To see the original recipe that inspired this one, check out the recipe for Coconut Cream Pie found at my food and family.
Advertisment