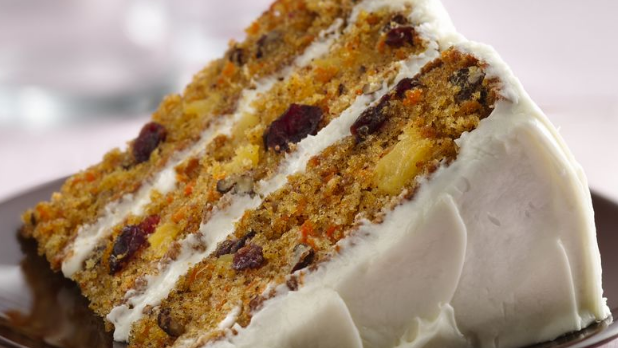 For National Cake Day I wanted to find a recipe for carrot cake that add a slight twist to it so here for you is a carrot cake with cranberries
Carrot cake has always been one of my favourites with that cream cheese frosting and the moist wonderful carrot cake layers that is so delicious that is one slice ever enough.. I love to have a slice in the afternoon with friends with a pot of earl grey tea it is one of my all time favourites
So when I came across this recipe with the twist from the cranberries I though yes I have to give that a go and believe me it is so good that you need to try it out for yourself
This great recipe has been brought to you by bettycrocker.com website , thanks for sharing it with us
Here below is a list of the ingredients you will need to make this cake from the website
Prep Time 30

MIN

Total Time 

2

HR

0

MIN

Servings 

12
Enjoy your carrots naturally sweet, baked in a cake frosted with rich cream cheese frosting.
Ingredients
Cake
1 3/4 cups Gold Medal™ all-purpose flour
2 teaspoons baking soda
2 teaspoons baking powder
2 teaspoons ground cinnamon
1/2 teaspoon salt
1/2 teaspoon ground allspice
1 1/2 cups granulated sugar
1 cup mayonnaise or sour cream
3 eggs
1 tablespoon ginger-flavored brandy or water
2 cups shredded carrots (about 4 medium)
1 can (8 oz) crushed pineapple in juice, undrained
1/2 cup chopped pecans or walnuts
1/2 cup sweetened dried cranberries
Cream Cheese Frosting
2 packages (3 oz each) cream cheese, softened
3 tablespoons butter or margarine, softened
1/2 teaspoon ginger-flavored brandy or vanilla
1/8 teaspoon salt, if desired
2 1/2 to 3 cups powdered sugar
Sugared cranberries, if desired
Sugared orange peel, if desired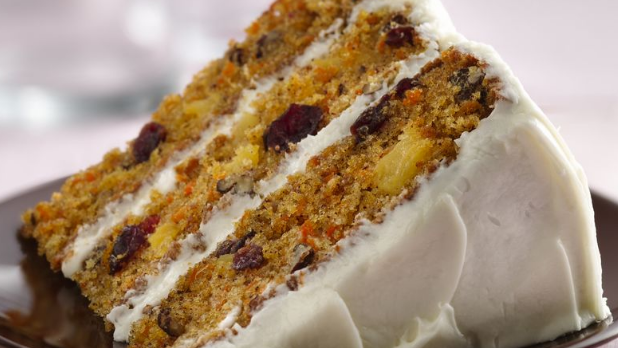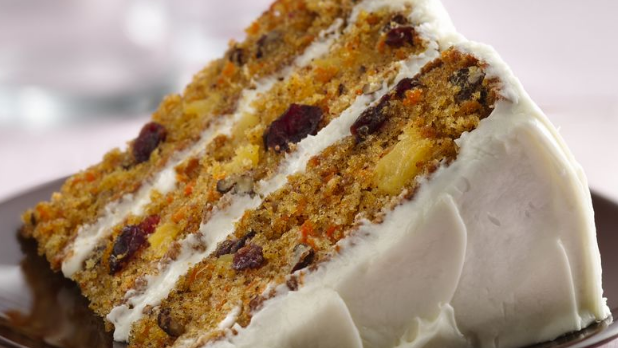 To get the recipe :http://www.bettycrocker.com/recipes/carrot-cranberry-cake/5f178f9b-9508-4c99-9d2f-6ec1603637d1
On November 26, don't forget to grab a slice or two of your favorite cake from a local bakery because theNational Cake Day is celebrated on this date.
Cake is one of the world's favorite desserts. A modern cake is usually a sweet baked dessert though it was originally a type of leavened bread sweetened with honey and fruits. Cakes are usually made with flour, eggs, sugar, and butter or oil. Some cake varieties also require liquid (water or milk) and leavening agents (baking powder or yeast).
Cakes can be flavored with fruit purées, candied or dried fruit, nuts, extracts, or liqueur, filled with dessert sauces or fruit preserves, decorated with icing, candied fruit, marzipan, or other culinary decorations. There are numerous cake recipes to suit every taste.
Cake is often the dessert of choice at wedding receptions, baby showers, anniversary parties, and other ceremonial occasions. A birthday cake is practically a must for any birthday party. Cake is also a popular comfort food dessert.
On the National Cake Day, indulge yourself with a piece of any cake type want. It may be a cheesecake (which isn't really a cake, but who cares), fruitcake, coffee cake, red velvet cake, devil's food cake, or any other kind.
Article Source :https://anydayguide.com/calendar/1465