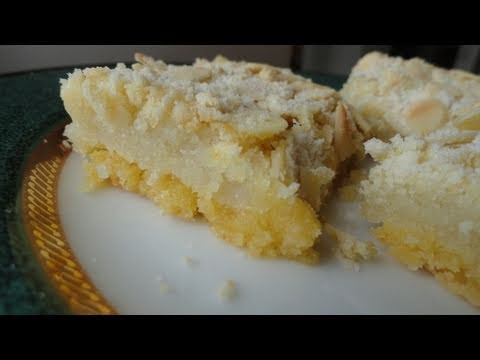 For National Almond Day I wanted to find you a recipe that was easy to make and you really can't get any easier than making any bake than using a cake box mix .. so I was pleased when I found this amazing almond cookie bars recipe that I am sure you will love to make
This great recipe is brought to you by Tammy from yoyomax12 – the diet free zone on YouTube , thanks for sharing it with us
Here below is the recipe and the video tutorial to watch both from the YouTube channel
This one tastes a lot like Chinese almond cookies. A quick way to make a tasty "home-made" dessert.
They have a moist, chewy texture
ALMOND BARS
1 pkg. yellow cake mix
1/3 c. margarine
1 c. ground or finely chopped almonds
1 c. icing (powdered) sugar
1 1/2 tsp. almond extract
4 egg whites
1/2 c. slivered or sliced almonds
Heat oven to 350 degrees. Grease a 13 x 9 inch pan. In large bowl, combine cake mix and margarine at low speed until crumbly. Keep 1/2 cup crumbs for topping. Press remaining crumbs in bottom of prepared pan. In same large bowl, beat ground almonds, powdered sugar, almond extract and egg whites on highest speed for 4 minutes. Pour evenly over crumbs. Combine 1/2 cup reserved crumbs and almonds; sprinkle over egg white mixture. Bake for 20 to 30 minutes or until light golden brown. Cool. Cut into bars.
It's National Almond Day! Did you know that almonds are one of the most heart-healthy foods on the market? These delicious and wholesome nuts are full of vitamin E, magnesium, and fiber, and can help lower cholesterol.
The almond tree is native to the Middle East and South Asia. It produces a fleshy green fruit similar to a peach or apricot. At the center of this fruit is a stone-like seed, which is the almond nut. Today, the state of California produces 80% of the world's supply of almonds. It takes more then 1.2 million beehives to pollinate all of the crops!
Whether you prefer to enjoy them plain, roasted, or paired with chocolate, celebrate National Almond Day with a handful of delicious almonds!
Article Source :https://www.punchbowl.com/holidays/national-almond-day