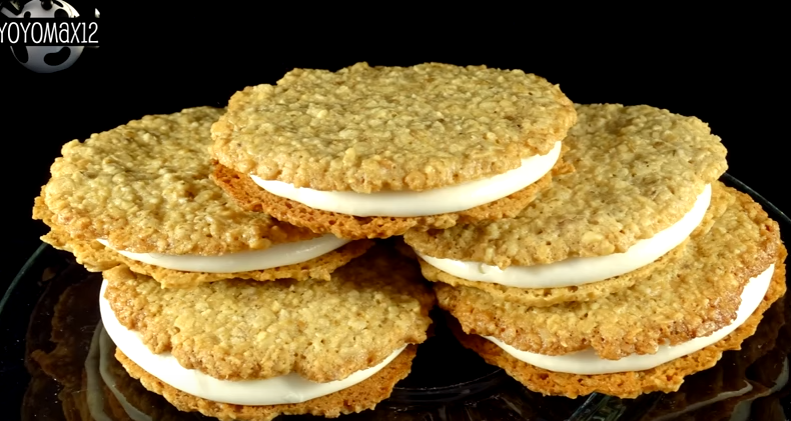 I love looking for recipes for you all and there is nothing that I like better when I am searching for recipes is to find those ones that have a video tutorial with them so I have found you a selection of them like these Peanut Oatmeal Crunch Cookies . so yummy I know you will love making this recipe
Great to make for that special treat
I love recipes with a video tutorial as they are much more easier to follow the recipe when you have something visual and the recipe too if possible so I really hope you enjoy making this recipe
This  particular great recipe has been brought to you by yoyomax12 – the diet free zone on YouTube, thanks for sharing it with us
Here below is  the recipe  and video tutorial from the YouTube channel
3/4 cup brown sugar
2/3 cup butter, melted
1 egg
1 tsp vanilla
2 cups quick cooking (5 minute) oats
1/4 cup flour
1/4 tsp salt (omit if using salted butter)
1/4 tsp baking powder
1/2 finely chopped peanuts
Filling:
2 cups icing/powdered sugar
1 jar (7oz) marshmallow cream
1/2 cup butter at room temperature
1 tbsp milk
2 tsp vanilla
Beat brown sugar and butter together and then blend in egg and vanilla. Add in baking powder, salt (omit if using salted butter), flour and oats and blend until combined.
Drop cookie dough by tablespoonfuls on parchment paper or silicone mat lined baking sheet. Spread dough into a 3 inch circle using the back of a spoon or with fingers lightly dampened with water.
Bake at 350F for about 8-10 minutes until edges are golden brown.
Allow to cool for a few minutes and then transfer to a wire rack to cool completely.
Combine filling ingredients and beat until smooth and fluffy.
Spread a small amount of filling between two cookies to make a sandwich.