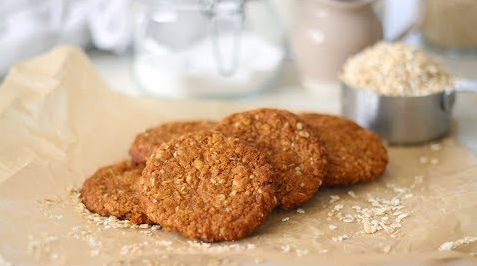 This is a classic and popular recipe in New Zealand and Australia. This recipe dates back to WWI when women and wives of soldiers want to make a tasty dessert that doesn't spoil easily. You can make it all year round, but Anzac Day is the perfect time to make these delicious biscuits. This recipe will make about 25 biscuits that will serve 4-5 people, but I doubt it'll last to the third person.
I remember Anzac Day parade back home when I was little, and there's always these biscuits at home, but I never knew the name. Now, I want to share my secret little recipe to you, and hopefully, it can bring a smile to you and your family.
You may notice that I don't use any eggs for this recipe. It's because back then, eggs are a rare commodity. It isn't now, so you can add 1-2 eggs if you like. You can also add chocolate chips on top, dried fruits, raisins, etc. It's such a versatile biscuit that you can add your personal touches to it.
Ingredients for Amazing Anzac Biscuits
1 cup (125g) flour
1 cup (80g) desiccated coconut
1 cup (90g) rolled oats
½ teaspoon salt
½ cup (1 stick) butter
2 tablespoons golden syrup
2 tablespoons water
1 teaspoon baking soda
1 cup (200g) brown sugar
How to Make Amazing Anzac Biscuits
In a medium-size mixing bowl, mix together the flour, coconut, rolled oats, and salt. Set aside. In a saucepan, melt the butter, golden syrup and water together. To the butter mixture, add baking soda and mix until combined; the mixture should froth up, creamy, and light. Pour the butter mixture into the dry ingredients and add the brown sugar. Mix together until combined.
Form a ball and place on a baking sheet lined with baking paper. Leave enough room around each to spread. Bake in a 160 C/320 F oven until golden brown and crispy on the edges (15 – 20 minutes). Transferring a wire rack to cool completely, serve, and enjoy.
To see the original recipe that inspired this one, check out the recipe for Amazing Anzac Biscuits found at Recipes by Carina.