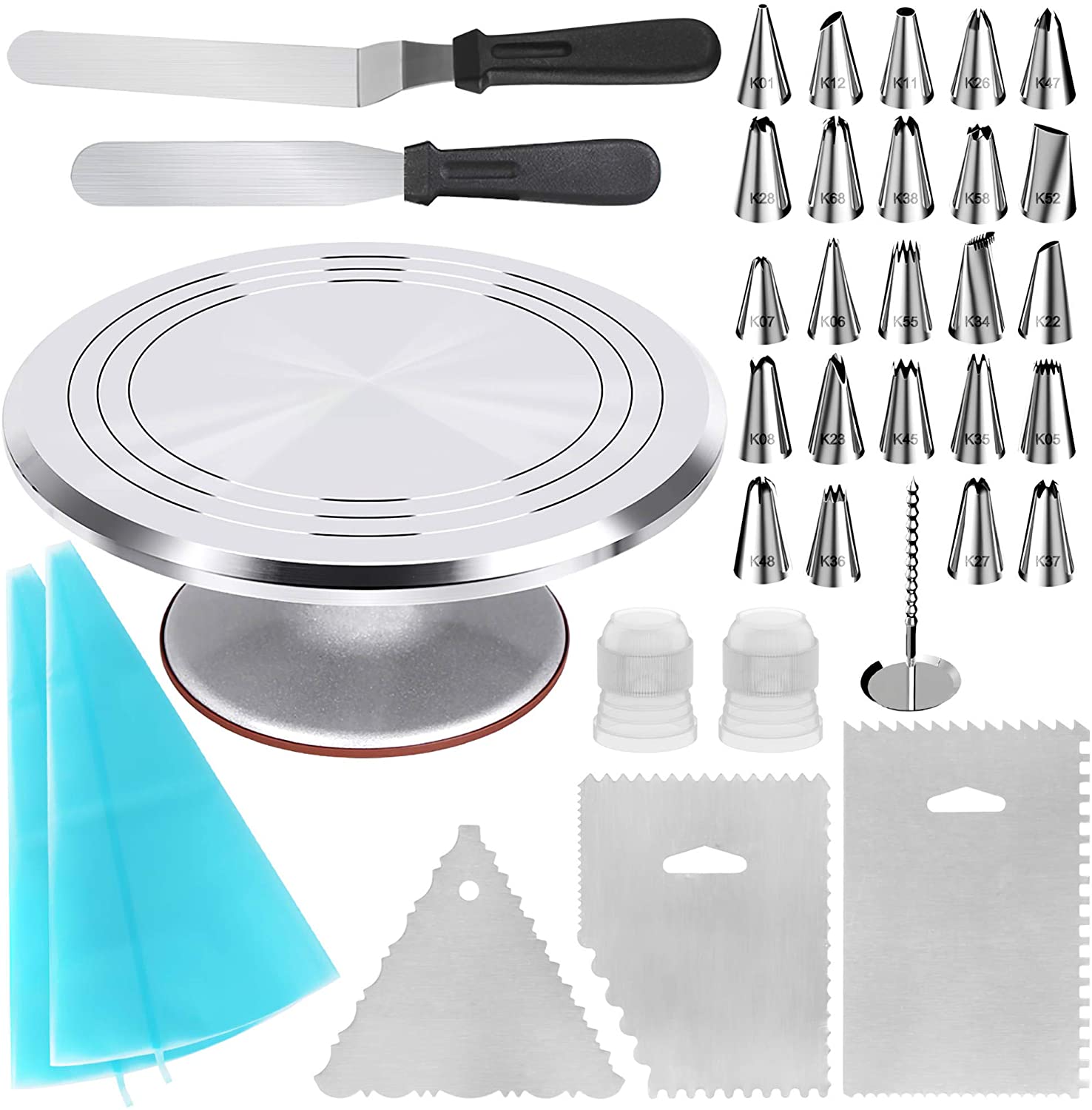 Yummy cake. The thought of cake awakens all the senses. The inviting aroma, the sweet taste, and the sentimental memories. Do you remember the first time you saw a beautiful cake? How do bakers decorate cakes with such precision and beauty?
Baking is a global love. Bakers are young and old, male and female, some with culinary backgrounds and some who literally learned by watching a loved one. One universal agreement amongst all bakers, especially those baking cakes, is tools matter. Bakers agree secondary to quality ingredients and accurate measurements, proper tools are important for a successful masterpiece. Whether you are a professional cake decorator or baking novice we have done all the legwork for you and compiled the best 6 cake decorating sets found on Amazon in 2021.
Cake decorating set shopping can be a little overwhelming. Some cake decorating sets have 10 or 20 tools and some have hundreds. Do not be afraid. We have researched many cake decorating sets found on Amazon, in various sizes and narrowed it down to the top 6.
Let's review a few essential cake decorating tools before revealing the top 6 cake decorating sets found on Amazon in 2021. This article assumes you have all your cake pans and legendary cake recipe all set and you are ready to commence with decorating.
Revolving cake stand
Spatulas
Decorating bags and tips
These three basics will get a cake decorated and are essential for every cake decorating beginner.
Coming in at Number 6
Kootek 35 in 1 Cake Decorating Set is a top pick for beginners looking to build a cake decorating arsenal. It includes the few basics we highlighted earlier and a total of 35 tools to turn your cake into an edible work of art. The set is easy to use, a great value and recommended for beginners. Amazon customer reviews average 4.8 out of 5 stars.
Number 5
Xnytong 359 Piece Cake Decorating Set is a top cake decorating set contender for those who are looking to expand their kit and keep everything organized. This set does not include a revolving cake stand but it has a total of 359 pieces including a cute multi-layer storage box to keep your supplies all in one place. Amazon customer reviews all agree that the decorating set is easy to use and easy to clean. We were sold on the easy to keep everything organized and stored in the cake decorating tool box.
Number 4
Wilton 15 Piece Decorating Set is not sold as a cake decorating set but we are including it for all its contents and colors. This decorating kit comes with a great selection of icing colors including green, yellow, red, blue, brown, orange, pink and violet. The multi-purpose decorating tools are great for creating those intricate designs. Practice makes perfect. Why not practice on a few cookies before branching out to a whole cake?
Three Down and Three to Go
Russian Piping Tips Cake Decorating Set targets everyone's favorite cake decoration, the flowers. Who doesn't want a slice a cake with a flower? The floral arrangement possibilities are endless with this cake decorating set. It is available in 42, 68 or 93 pieces. We also liked that is comes with a piping tip and recipe guide and a storage box.
Number 2
Bakarto Professional Cake Decorating Set stands out from the others with their dough and pastry cutter with double sided measuring scale in inches and centimeters. The decorating set comes with a video tutorial to help guide you through use and create your own unicorn cake. Another added bonus is the lifetime warranty!
And the Winner Is
Kosbon 366 Piece Cake Decorating Set with Baking Supplies appropriately comes in at the top pick because it contains the mother load of all baking needs from pans to molds, turntable, tips, pens, bags and so much more. This is the ultimate supply kit and you will want for nothing other than to bake and create. We are not alone in our selection. This decorating set has over 5,700 Amazon customer reviews and is rated 4.6 out of 5 stars.
The Amazon research is complete. Which one will you choose? Will it be a smaller set, one with a storage bin or a set that has everything you need to start baking and decorating? There is no wrong answer. Keep baking, decorating and creating sweet memories.