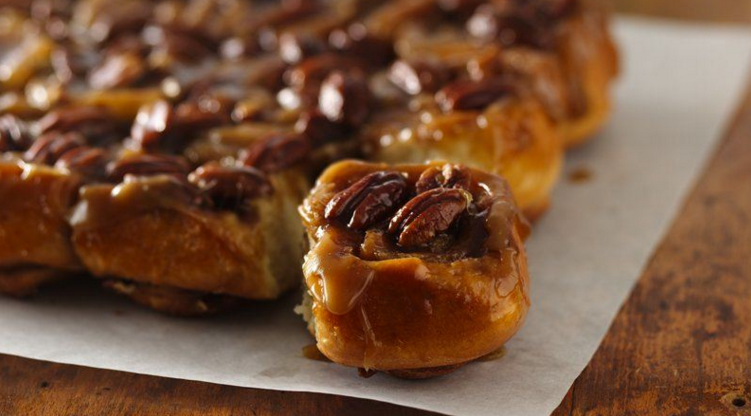 With it being National Pecan Day I wanted to find a delicious recipe that I though you all would love to make and can be enjoyed by the whole family .. there is nothing quite like waking up to a great breakfast or brunch over the weekend so when I came across these caramel pecan sticky rolls I just had to share this recipe with you as it seemed the right one for this day
This great recipe has been brought to you by bettycrocker . com website so it is a easy recipe to follow , thanks for sharing it with us
Here below is a list of the ingredients you will need to make this recipe from the website
Prep Time 

40

MIN

Total Time 

3

HR

15

MIN

Servings 

15
Who wouldn't be happy when offered one of these rich, delicious pinwheels of warm raised yeast dough topped with pecans?
Ingredients
Rolls
3 1/2 to 4 cups all-purpose or bread flour
1/3 cup granulated sugar
1 teaspoon salt
2 packages regular active or fast-acting dry yeast (4 1/2 teaspoons)
1 cup very warm milk (120°F to 130°F)
1/4 cup butter, softened
1 egg
Caramel Topping
1 cup packed brown sugar
1/2 cup butter, softened
1/4 cup light corn syrup
1 cup pecan halves, if desired
Filling
1/2 cup chopped pecans or raisins, if desired
1/4 cup granulated sugar or packed brown sugar
1 teaspoon ground cinnamon
2 tablespoons butter, softened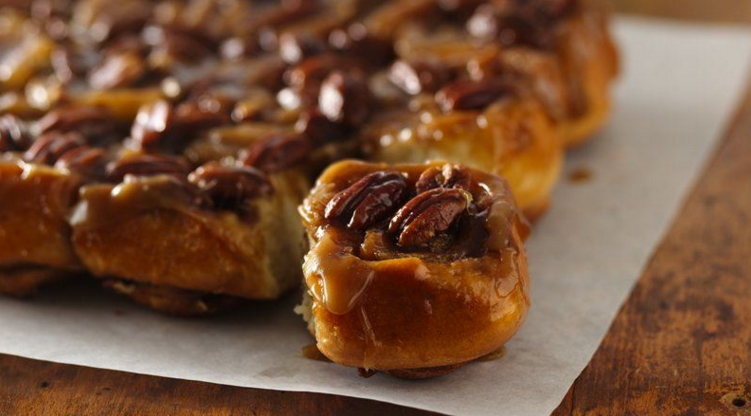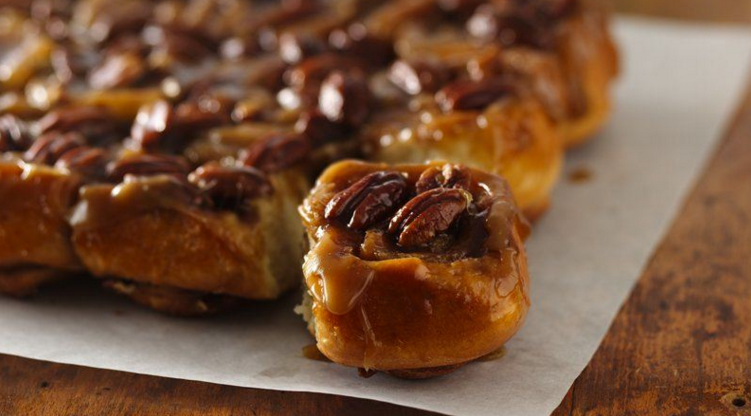 Lighter Caramel Sticky Rolls For 4 grams of fat and 255 calories per serving, make recipe as directed—except omit caramel topping and pecan halves. Line pan with foil; spray with cooking spray. Drizzle 1 cup caramel ice-cream topping over foil (heat topping slightly if it is stiff). Continue as directed—except omit chopped pecans from filling.
After placing slices in pan, cover tightly with plastic wrap or foil; refrigerate 4 to 24 hours. Before baking, remove from refrigerator; remove plastic wrap or foil and cover loosely with plastic wrap. Let rise in warm place about 2 hours or until dough has doubled in size. If some rising has occurred in the refrigerator, rising time may be less than 2 hours. Bake as directed.
Omit caramel topping and pecan halves. Grease bottom and sides of 13×9-inch pan with shortening or cooking spray. Place dough slices in pan. Let rise and bake as directed in Steps 6 and 7—except do not turn pan upside down. Remove rolls from pan to cooling rack. Cool 10 minutes. Drizzle rolls with Vanilla Glaze (page 150) if desired.
National Pecan Day

Five Food Finds about Pecans

Pecans come in a variety of sizes – mammoth, extra large, large, medium, small and midget.

Before a shelled pecan is ready to be sold, it must first be cleaned, sized, sterilized, cracked and finally, shelled.

There are over 1,000 varieties of pecans.  Many are named for Native American Indian tribes, including Cheyenne, Mohawk, Sioux, Choctaw and Shawnee.

Texas adopted the pecan tree as its state tree in 1919.

2 Pecans provide nearly 10 percent of the recommended Daily Value for zinc.

Article source :foodimentary.com
The full recipe from bettycrocker.com is found in the box below