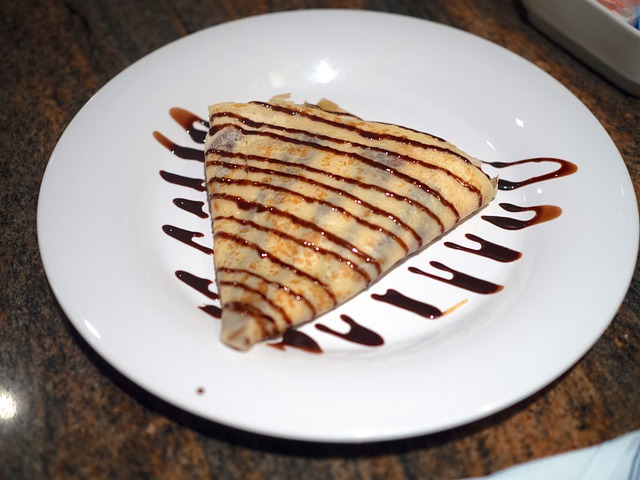 I know that a lot of you love the beautiful aroma of deliciously cooked and fried French crepes. Those are the one that is loaded with chocolate and banana in them. So, if you are craving for something very decadent and delicious but so easy to be put together, this is the recipe you are searching for. 
Loaded with buttery flavor, banana in the middle, and all of that drizzled with chocolate sauce on top makes this recipe to be one of a kind. A real show stopper and crowd pleaser this French Crepes are great for family or friends gatherings and represent an elegant dessert easy to make. 
This represents a kid-friendly recipe as well because you can charge your kids to help with filling and putting them all together. It is a nice dish after all and very shows stopping when you will bring to the table everyone will go nuts for. If you think that this dish Is hard to be put together, then think again! 
Ingredients:
3 eggs, room temperature
 ¾ cup milk 
 ½ cup of water 
 3 tablespoons melted butter 
 1 cup all-purpose flour 
 pinch of salt 
 3 tablespoons sugar
 1 teaspoon vanilla extract
 2/3 cup Nutella 
 3 ripe bananas 
 chocolate sauce for topping 
How to Make Chocolate Banana Crepes
In a large mixing bowl, whisk together eggs, milk, water, melted butter, flour, salt, sugar, and vanilla extract. Mix until well incorporated and mixed through. 
In a frying pan, heat some oil and fry the pancakes on each side for 2-3 minutes. Fill each crepe with Nutella and place half or whole banana on top. Drizzle with chocolate sauce on top. 
To see other recipes for Chocolate Banana Crepes, check out: 
https://www.allrecipes.com/recipe/85419/chocolate-banana-crepes/
https://www.tasteofhome.com/recipes/chocolate-hazelnut-banana-crepes/
https://en.christinesrecipes.com/2012/02/banana-chocolate-crepe.html