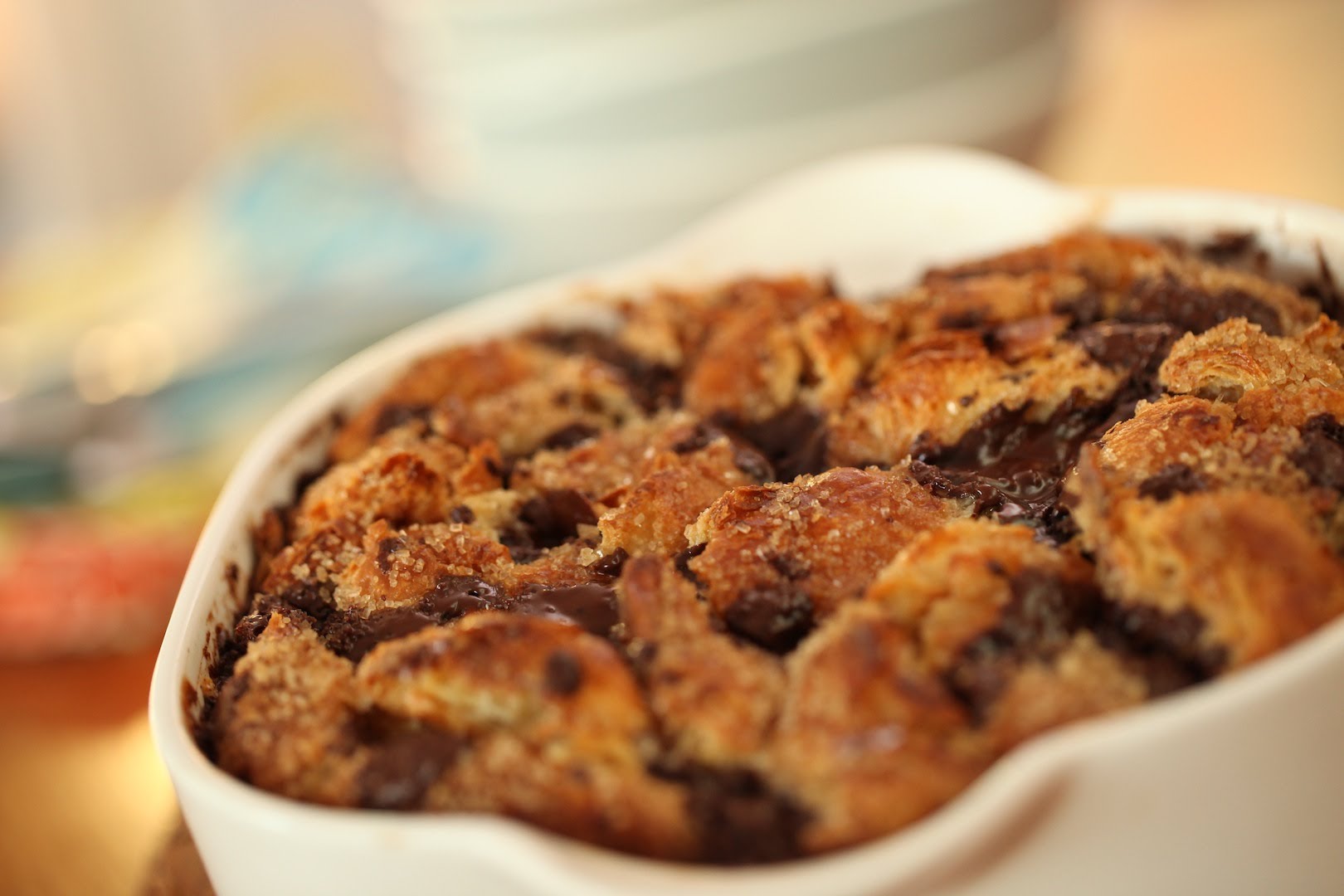 Hi Fellow Bakers
Lots of Dust and Mess everywhere followed by a chocolate gooey croissant bread pudding….
Not been able to bake for a few days as new kitchen being done so been a little sad that I have not been able to try out any new recipes that I have found for you all  , but never mind I have a new kitchen now to be proud of that is what counts.. so I am happy baker right Now ♥
Hope you are having fun baking some of the recipes on the website …
Afternoon Baking With Grandma
Sue X
Being away from my kitchen has made me want to bake something gooey and comforting so  I made this rich  chocolate gooey croissant bread pudding that turned so good so here is the recipe for you so you can make it too
The croissants that are used makes this pudding more buttery and rich than using bread .. when you  put the serving spoon into the dish you will have guest in aura at how it looks .. why not have it with cream or ice cream to add that further indulgent .. Go For It !
This wonderful recipe is brought to you by Liesl Maggiore on Kin Community on YouTube .. thanks for sharing this wonderful recipe with us 
Here below is this list of ingredients you will need to make this dessert
3 day-old, all butter croissants
3.5 oz. dark chocolate, chopped into small chunks
2 1/4 c. half and half
1/2 c. sugar
3 eggs
1 t. vanilla
a pinch of salt
2 T. turbinado/raw sugar
The half and half in the recipe in some countries you would use half milk and half pouring cream as that is what half and half is  and the  raw sugar is either caster or granulated sugar
Preheat oven to 325 degrees. Butter an 8 x 8 (or 2 quart) baking dish.
Roughly tear croissants into 1 inch pieces. Place half of the croissants pieces in the bottom of the baking dish. Sprinkle in half of the chocolate chunks. Add the remaining croissants and top with the rest of the chocolate pieces.
In a large bowl, combine half and half, sugar, salt, vanilla and eggs. Whisk until sugar is dissolved. Pour over croissants in baking pan.
Allow the croissants to soak up the liquid for for 10 minutes. Sprinkle with turbinado sugar.
Bake for approximately 50-55 minutes until puffed and custard is just set in the middle. Let rest at least 10 minutes before serving.