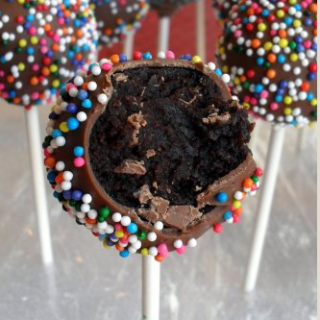 What wonderful looking  chocolate truffle cake pops to make that would be great for a party or wedding favours or to make them for friends as a present.
As this recipe tutorial shows a pictures of them wrapped up in bags and ribbon so pretty and great treat for everyone to have… a really great recipe as they are easy to make but look so cute and colourful with there sprinkles on them .. so why not give this recipe a go even children could help with making them and have great fun in doing so as they love to help in the kitchen ..
This recipe is brought to you by veronicascornucopia.com website , thanks for sharing this recipe with us
Here is an excerpt from the website about these cake pops
These pops are essentially cake truffles on a stick and are very simple to prepare: Bake a cake, mush it up with frosting, roll it into balls, insert a stick, and dip it in chocolate! These things really are a hit with kids because they are so fun, but adults seem to enjoy the delicious truffle-like confections equally well.
To check the full written recipe from it's original source on veronicascornucopia.com website please use the next page link below