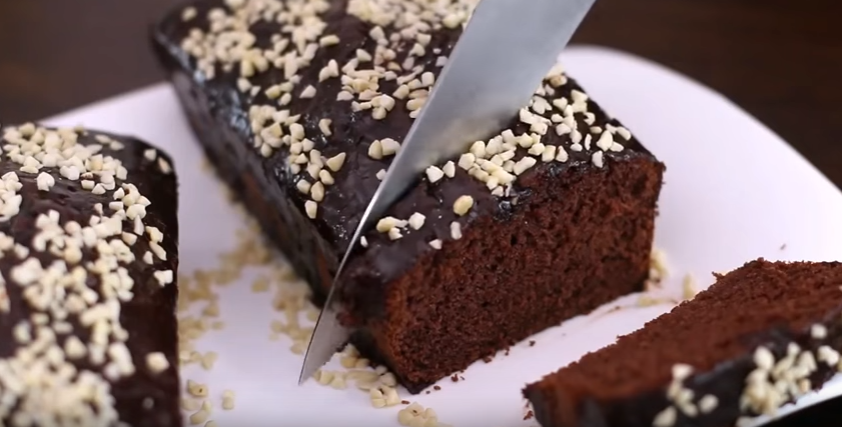 Love chocolate cake? then why not try this amazing chocolate pound cake that would be so ideal to make for that tea party , I really love this cake it is so easy to make and a great one for all you chocolate fans
A great cake for the weekend  .. so why not check out the recipe below … happy baking
This great chocolate pound cake recipe is brought to you by Pak Tube on YouTube , thanks for sharing this recipe with us
Here below is the recipe and the video tutorial to watch both from the YouTube channel
This recipe doesn't use too much chocolate and uses more cocoa powder instead.
Ingredients:
Makes 2 loaf pound cakes
1 cup + 2 tbsp (250g) butter
1 1/2 cup (300g) sugar
1/3 cup (40g) cocoa powder
7 oz (200ml) milk
1.5 oz (40g) semisweet chocolate
4 eggs
1 2/3 cups (200g) all-purpose flour
1/4 tsp (1g) salt
2 1/2 tsp (10g) baking powder
nuts, for topping
Directions:
Preheat oven to 350F (180C). Grease and line with parchment paper two 9x5in (23x13cm) loaf pans.
Place butter in a sauce pan and melt over low heat. Add sugar, cocoa powder and milk and stir to combine. Bring to a boil for 1 minute.Remove from heat.
To make the chocolate glaze for the top place the chocolate pieces into a small bowl and add about 1 cup (220g) of the hot cocoa syrup. Stir to melt the chocolate and set aside until ready to use.
While the cocoa syrup cools down slightly separate the egg whites from yolks and whip the egg whites until foamy and stiff peaks form.
Add flour, salt and baking powder to the cocoa syrup and stir to combine. Gently fold the whipped whites into the mixture and divide mixture evenly into the prepared pans.
Bake for about 30-35 minutes until a toothpick inserted in center of cake comes out with a few moist crumbs attached.
Pour the reserved chocolate glaze on the top and decorate with nuts if desired.
Let cool completely before serving.
National Chocolate Cake Day
Today is National Chocolate Cake Day! Cakes have a rich culinary history. In Greece, cakes (or "plakous") were heavy and flat, and people served them with nuts and honey. The Romans made cakes that were more like cheesecake or pastry, and presented them as offerings to the gods. In Medieval England, people used the words "bread" and cake" interchangeably to refer to anything made with flour dough.
A company called O. Duff and Sons created the first boxed cake mix in the late 1920s. In 1947, after years of research and development, General Mills released the first "just add water" Betty Crocker cake mixes. The available flavors were Ginger, Spice, Yellow, and White. In 1948, Pillsbury introduced the first chocolate cake mix.
Today, the most popular kind of cake is chocolate. There are many different types, including Black Forest, Devil's Food, Flourless, Fudge, Ganache, German Chocolate, Lava, and much more. Head to your local bakery or whip up your favorite recipe to celebrate National Chocolate Cake Day!
Article Source :https://www.punchbowl.com/holidays/national-chocolate-cake-day