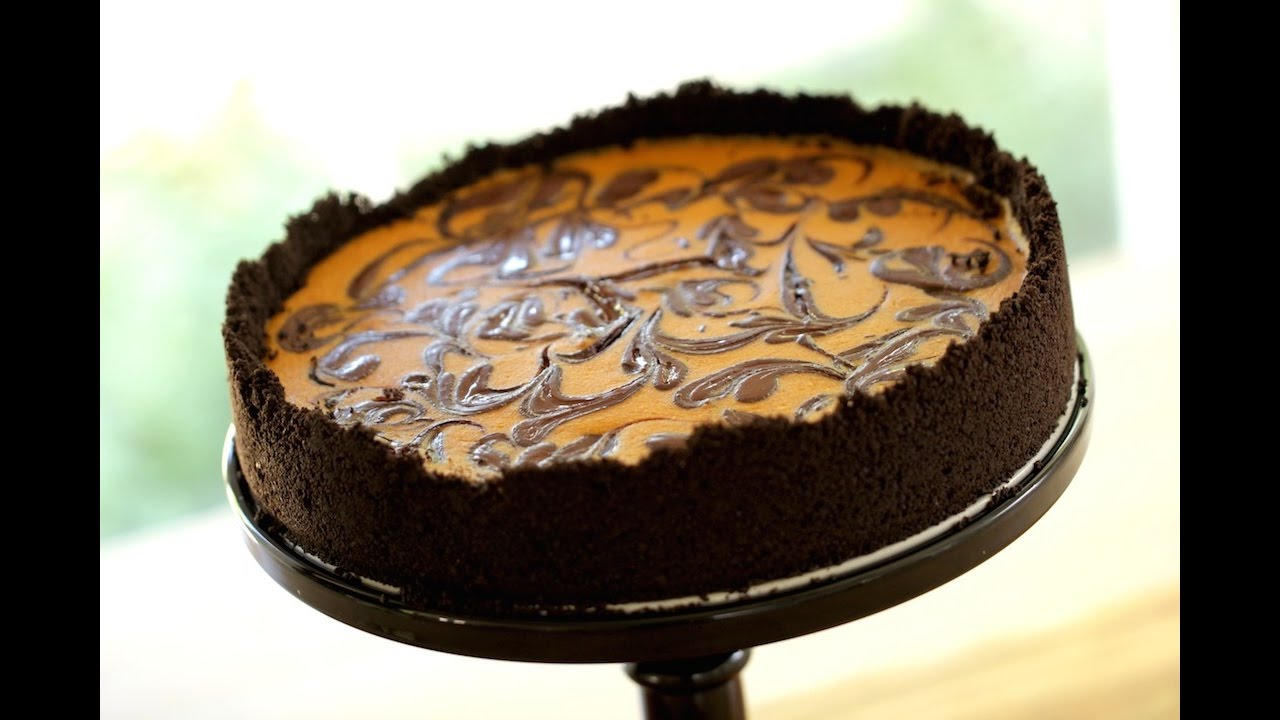 I really love this amazing chocolate pumpkin cheesecake , what I love about it is the fact that it has the chocolate element too giving this cheesecake the richness that would be so perfect for a dinner party
This cheesecake look so stunning that I think you should check out the recipe below and make one for your next party
This great recipe is brought to you by Entertaining With Beth on YouTube , thanks for sharing it with us
Here below is the recipe and the video tutorial to watch both from the YouTube channel
BETH'S CHOCOLATE PUMPKIN CHEESECAKE RECIPE
Serves 8
INGREDIENTS:
For the Crust
1 (9 0z) package of famous chocolate wafers or other dark chocolate cookie
5 tbsp (75 ml) melted butter
For Filling
2 (8 oz) containers (460g) of whipped cream cheese
2 whole eggs
3 egg yolks
¾ cup (150 g) of sugar
1 (15 oz) can (420g) of pure pumpkin puree
¼ tsp (1.25 ml) salt
1 tsp (5 ml) pumpkin pie spice
1 tsp (5 ml)vanilla extract
¼ cup (30 g) of flour
2 oz (56 g) melted bittersweet chocolate
METHOD:
Preheat oven to 325F/162 C.
Process cookies in a food processor until fine or better yet place in a zip lock plastic bag, seal and crush with a rolling pin until finely ground (then you won't have to clean the food processor!). Combine with the melted butter, until a lose meal develops.
Grease a 9″ (23 cm) spring form pan. Place the crumbs into the center of the pan, working your way up the sides at least 2 inches. Use the side of a measuring cup to help adhere crust to the sides.
Bake at 325 F/ 162 C for 10-12 mins and then set aside and allow to cool.
Beat together the cream cheese, eggs, and egg yolks until smooth. Add the sugar , beat until combined, then the pumpkin. Then add the salt, pumpkin pie spice, and vanilla, beat to combine, and lastly add the flour.
Pour the filling out into a slightly cooled crust. And then spoon the melted chocolate on top creating 2 rings of small circles (about the size of a grape) then run a skewer through the chocolate creating a swirled design.
Bake at 325 F/ 162 C for at least 1 hour. At the 50 mins mark, check it. At this point it should giggle slightly but not too wildly. Just don't over bake or you will get cracks.
Allow to cool for at least 30-40 mins and then place in the fridge for at least 4 hours, or overnight is even better.
Keep refrigerated until ready to serve. Then release from the spring form pan, place on a cake stand and Enjoy!