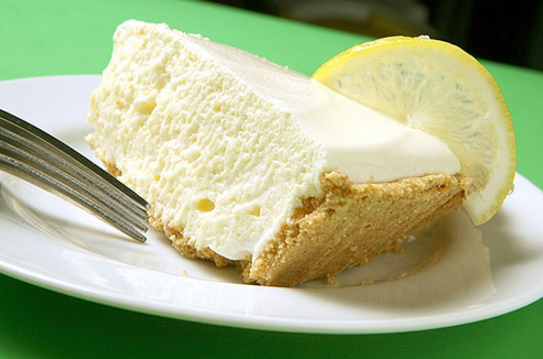 I really love this dessert it is so light and creamy that it is so ideal for that dinner party dessert, so easy too as well, so does it make you just have to give it a try ?
Lemon desserts are so good and I know this one won't let you down .. it is so amazingly good that your guests will be asking for the recipe
Here below is the recipe for you for this amazing dessert
Ingredients
1 (9″) crumb crust, chilled
1 can Eagle Brand sweetened condensed milk
1/8 c. lemon juice
Few drops yellow food coloring
2-3 tsp. grated lemon
3 egg whites
1/4 tsp. cream of tartar
Whipped topping (opt.)
Lemon slices (opt.)
GRAHAM CRACKER CRUST
Basic Crust :
1 pkg. graham crackers, finely rolled, about 1 2/3 c.
1/4 c. sugar
1/4 c. softened butter
Roll crackers in plastic bag until fine. Pour crumbs into a bowl. Add sugar and softened butter. Blend well with fingers, fork or pastry cutter. Pour crumb mixture into 9 inch pie plate. Distribute mixture evenly. Set an 8 inch pie plate on top of crumbs and press firmly to make even layer on sides and bottom of plate. Remove 8 inch plate. Crust is ready to fill as is, to freeze (for ice cream pies or to bake in moderate oven at 375 degrees for 8 minutes for a crisper crust and extra delicious flavor.).
For The Filling :
In large bowl, combine sweetened condensed milk with lemon juice, food coloring and grated lemon peel. Blend well. In a small bowl, beat egg whites and cream of tartar until stiff, but not dry. Gently fold into lemon mixture. Pour into prepared crust. Chill. serve with lemon slices