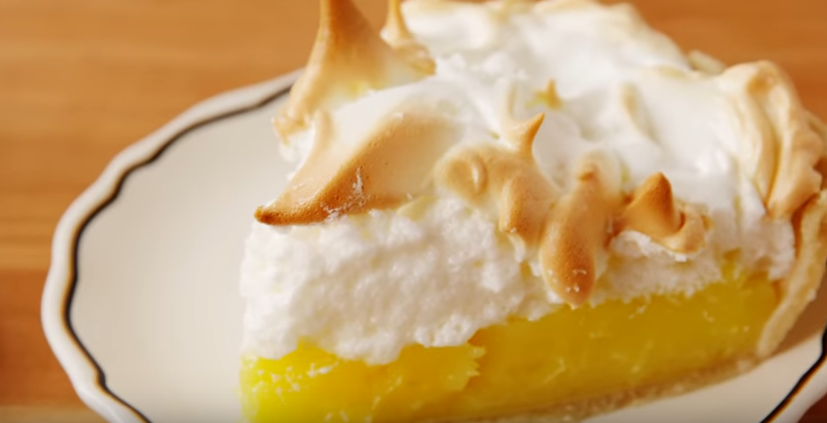 I totally love to bake so when looking for new recipes I often go onto YouTube as I love to follow recipes that have that video tutorial with them , so I wanted to share a few recipes with you that caught my eye like this one for Lemon Meringue Pie  , Which I really hope you enjoy baking
What I love about video tutorial recipes is that you can see the product that you are baking unlike a written recipe although some of the video recipes come with them too .. happy baking
This great recipe is brought to you by The Delish on YouTube  , thanks for sharing this recipe with us
Here below is the recipe plus the video tutorial from the YouTube channel
DIRECTIONS
1. Preheat oven to 350º. In a saucepan over medium heat, combine 1 1/4 cups sugar, cornstarch, flour, and salt. Gradually stir in cold water until smooth. Cook, stirring constantly, until mixture boils. Boil 1 minute, stirring constantly, then remove from heat.
2. In a small bowl, beat egg yolks with a fork. Stir about 1/4 cup of hot mixture into egg yolks. Gradually stir yolk mixture into hot mixture. Bring to a boil and continue to cook, stirring constantly, until thick. Remove from heat.
3. Stir in butter and lemon juice and zest.
4. Pour filling into baked pie shell.
5. Make meringue: In a large bowl, beat egg whites and cream of tartar until soft peaks form. Add remaining 1/4 cup sugar by the tablespoon until stiff peaks form.
6. Spoon meringue onto hot filling and spread to edge of crust and seal well.
7. Bake until meringue is golden brown, 12 minutes. Cool completely, about 1 hour, then refrigerate until filling is set, 3 hours.
INGREDIENTS
1 1/2 c. sugar
1/3 c. cornstarch
2 tbsp. all-purpose flour
1/2 tsp. kosher salt
1 1/2 c. cold water
4 Large eggs, separated
2 tbsp. butter
juice and zest of 2 lemons
Premade pie shell
1/4 tsp. cream of tartar