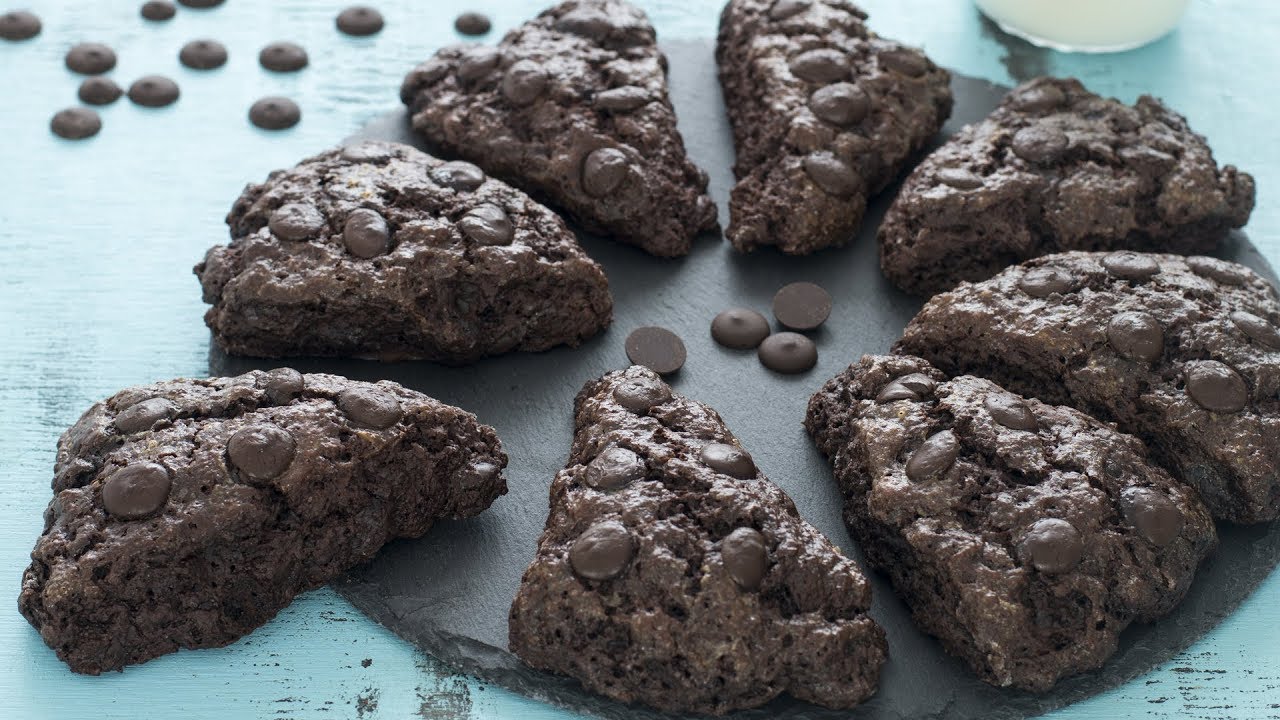 Scones are so good to make for that breakfast or brunch treat, so I wanted to find you some recipes that would be just perfect or that family or friends get together occasion , so how about these Double  Chocolate Scones, they are so tempting aren't they
This great recipe has been brought to you by Ella from Home Cooking Adventure on YouTube and on homecookingadventure.com, thanks for sharing this amazing dessert with us
Double Chocolate Scones – rich and chocolaty, quick to prepare, with a rustic, unpretentious look but smells and tastes absolutely amazing.
Ingredients Makes about 8 servings
1 3/4 cups (220g) all-purpose flour
1/2 cup (60g) unsweetened cocoa powder
1/2 cup (100g) sugar
2 1/2 tsp (10g) baking powder
1/2 tsp (1g) instant coffee
1/2 tsp (2g) salt
6 tbsp (80g) butter, cold and cut into cubes
1 egg
3/4 cup (180g) buttermilk
4 oz (120g) semisweet chocolate chips/chunks
Topping
1 egg, beaten
chocolate chips/chunks
1. Preheat the oven to 400 F (200C). Line a baking sheet with parchment paper.
2. In a large bowl whisk the flour with sugar, cocoa powder,instant coffee, baking powder and salt.
3. Add the butter cubes, and using a pastry cutter or fork cut the butter until the pieces are no bigger than peas.
4. Add chocolate and toss until are coated in flour mixture.
5. Combine egg with buttermilk and add over the flour mixture and stir until just combined.
6. Transfer dough onto a floured surface. Shape into a circle of about 8 inch (20 cm) in diameter, then cut into 8 triangles.
7. Transfer the scones on the baking sheet and brush with egg. Top with more chocolate chips or chunks.
8. Bake for 18-20 minutes or until a toothpick inserted into the center comes out clean or with a few crumbs attached. Transfer to cooling rack to cool slightly. The scones are best served warm. Enjoy.