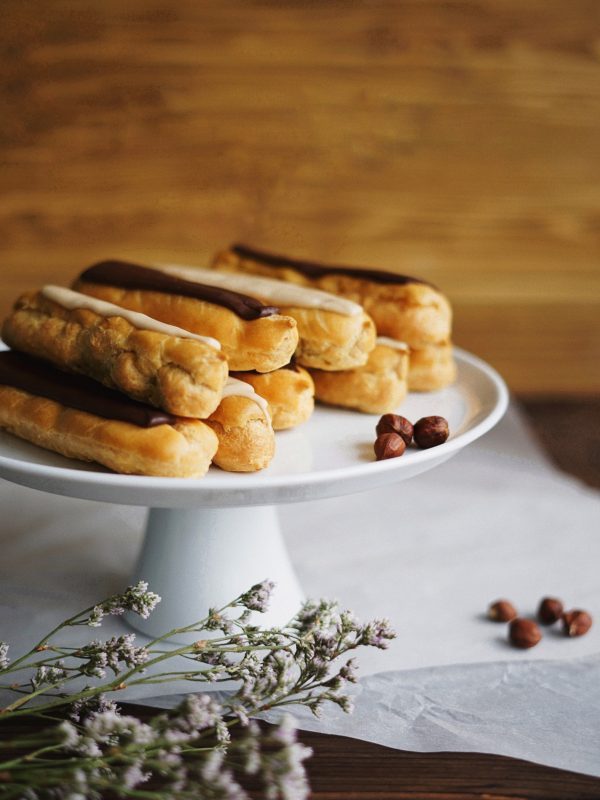 Let's face it all. We all have dreamed to wake up one morning in beautiful France, having our breakfast ready with delicious, puffy and buttery crescents and jam … and a huge piece of French Éclair on the side!
When you think of France and Paris, first association is big, fat stuffed Éclair with delicious vanilla pastry cream, coated in yummy chocolate glaze and sprinkled with nuts. Nothing can be better than that, right?
Wait, why to go to France, only for an Éclair, while you can make it on your own, at home from scratch.
With this foolproof recipe, you will make delicious Choux pastry, homemade vanilla pastry cream (just like the one people make in France) and simple but delicious chocolate glaze for coating. Already sounds intriguing, I know, but there is one rule you must know while preparing the recipe. Do not hurry and do not skip any step of the preparation process. Every step is important especially baking the Éclair because that's the step where huge holes are made in the middle of each éclair so more filling can come in while they are stuffed.
The recipe itself is tasty and delicious and it's great for weekend bake-offs, or just anytime you feel you are ready to dive in the kitchen.
Ingredients for Classic Éclair 
For Éclair choux pastry:
½ cup (120ml.) water
½ cup (120ml.) whole milk
8 tablespoons of butter
1 teaspoon granulated sugar
¼ teaspoon salt
1 cup all-purpose flour
4 large eggs, room temperature
For the pastry cream:
2 cups (480 ml.) whole milk
½ vanilla bean scraped
¾ cup granulated sugar
¼ cup cornstarch
1 pinch of salt
4 large egg yolks
4 tablespoons butter, at room temperature
For chocolate coating:
4 oz. chocolate chips
½ cup heavy cream
How to Make Classic Éclair
To prepare the choux pastry, in a medium saucepan combine water, milk, butter, sugar, and salt. Bring that to a boil and use a wooden spoon to stir in flour. Mix until well combine and dough forms. Transfer the dough in a large mixing bowl and stir in the eggs, one at a time, mixing well and combining them with dough, between each addition. Using a hand mixer beat the dough until fully combined and smooth.
Transfer the choux pastry in a pastry bag, fielded with a round piping tip.
Preheat the oven to 425 degrees F or 200 degrees C.
Pipe out the éclairs from the pastry bag in the already lined baking pan with parchment paper 1,5 inches apart from each other. Bake éclairs in preheated oven for about 10 minutes, then without opening the door of the oven reduce the heat to 325 F or 175 C, and bake another 30 minutes or until golden brown. Transfer éclairs to a wire rack to cool completely.
Meanwhile, prepare the pastry cream.
Scrape out vanilla bean seeds and place them in a saucepan with the whole milk. Bring that to a boil stirring well occasionally to prevent it from burning. As soon as it boils, remove the vanilla bean and set aside.
In a separate bowl mix together sugar, cornstarch and a pinch of salt. Whisk in the egg yolks and smooth out the whole mixture. While whisking constantly, gradually pour from the heated milk and whisk until everything is incorporated. Transfer the pastry cream back in the saucepan and while whisking constantly bring it to a boil for another 30 seconds until thick and pudding-like consistency. Transfer the cream in a mixing bowl and while still hot stir in the room temperature butter and smooth it out. Cover the cream with plastic wrap to prevent from forming a skin and let it cool completely for a few hours.
Using a small and sharp pastry tip poke two or three holes in the bottom of each éclair.
Transfer cooled and whisked pastry cream in a piping bag and fill each éclair.
Chill éclairs until you make chocolate coating.
In a small mixing bowl place in the chocolate chips and pour in very hot heavy cream. Let it sit for 2 minutes and stir until smooth and creamy.
Dip the top half of each éclair in the chocolate sauce and drip off any excess sauce. Let them cool to set and dig in.
NOTE: I have excess white chocolate chips that I used for coating on a few eclairs, which I included in the photo; this is optional if you want different colors on your pictures too 🙂
To see the original recipe that inspired this one, check out the recipe for Classic Éclair found at Natashas Kitchen.