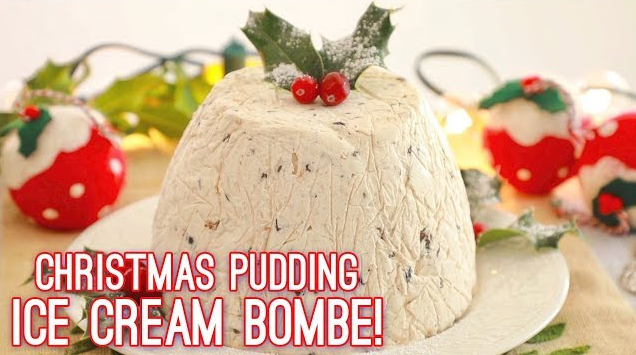 Mommies, imagine a traditional Christmas pudding but with a frozen ice cream treat and spiced mincemeat. It's a little crazy I know, but that's exactly what we're going to make today. This is a really impressive holiday dessert that has loads of texture, chew, crunch, and creaminess. This recipe will make one super impressive, super delicious pudding ice cream bombe that you can serve for 6-8 people.
This recipe has a traditional British heritage and the first time I ate a Christmas pudding was when out British neighbor brought us some. I was delicious and I really want to make a recipe for it and add my own touches to it. Today, I'm going to share that recipe with you and hopefully, it can bring joy and happiness to your family as it did to ours. 
In this recipe, I added some liquor to it but it is totally optional. If you want to serve this to your kids, leave them out obviously. Or you can do what I did, make two pudding ice cream bombes! One for mommy and daddy and one for the kids. They're pretty easy to make and when I serve them, there are no leftovers. 
Ingredients for Christmas Pudding Ice Cream Bombe
FOR THE MINCEMEAT:
1 cup (5oz) raisins
2/3 cup (31/2oz) dried cranberries
1/4 cup (11/4oz) pistachios or pecans (toasted and chopped)
grated zest of 1 lemon
grated zest of 1 orange
1 teaspoon cinnamon
1 teaspoon ginger
1/4 teaspoon nutmeg
1 cup (8floz) orange juice
1/4 cup (2floz) liquor (Cointreau, Grand Marnier or Brandy), optional
ICE CREAM:
1 can (14oz) sweetened condensed milk (fat-free or regular), cold
2 cups (16oz) whipping cream, cold
How to Make Christmas Pudding Ice Cream Bombe
In a bowl, mix all the mincemeat ingredients together and set aside for about 1 hour(Imix it the night before so the fruit softens and soaks up the liquid). Prepare a 2-liter pudding basin, grease, and line with clingfilm so the film hangs over the edge of the basin. For the ice cream;in a stand mixer fitted with the whisk attachment, beat cold heavy cream on medium until stiff peaks form. Turn down the speed a bit and pour the condensed milk into the whipped cream. Turn the speed up again and whip until your mixture is thick and to stiff peaks.
You can stir in the mincemeat now that you have your ice cream base, mix until well combined. Add in the liquor now if you prefer. Pour into your pudding basin and fill it all the way up. To release any air bubbles, tap the pudding on the counter. Freeze overnight or a minimum of 5-6 hours. Take the pudding out of the freezer and after about 15 minutes, invert it onto a plate. Let it cool completely for about 15 minutes, remove the bowl and cling film and top with holly and frosted cranberries. 
Spoon or slice to serve. Store in the freezer for up to 6 weeks.
To see the original recipe that inspired this one, check out the recipe for Christmas Pudding Ice Cream Bombe found at Bigger Bolder Baking.