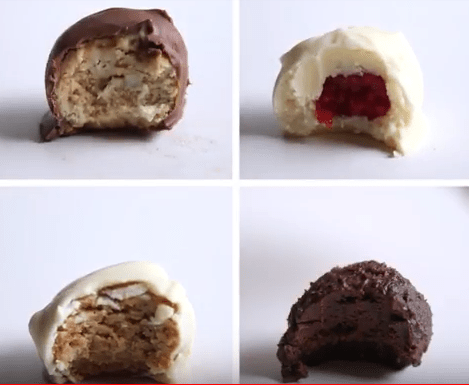 Making truffles are great fun especially leading up to the holiday season so I was so pleased to have found you this particular recipe for 4 amazing holiday truffles that you can make with just 3 ingredients …what could be easier ?
 The truffle flavours are Gingerbread Cookie,Dark Chocolate Orange,White Chocolate raspberry and Shortbread 
This great recipe has been brought to you by Shared  Food on YouTube and shared.com, thanks for sharing it with us
Here below is an excerpt and a list of the ingredients you will need from the website
Truffles are part of most peoples holidays and if they aren't, they will be after these 4 easy recipes that you and the whole family can get into.

Plain chocolate is not good enough for me so these holiday inspired flavors should do the trick! From gingerbread, Chocolate/oranges, white chocolate/raspberry and of course the holiday staple shortbread, you will for sure enjoy them all!
Ingredients:
For Gingerbread Cookie Truffles:
1 package gingersnap cookies
8 ounces cream cheese, softened
2 cups white chocolate chips
For Dark Chocolate Orange Truffles:
8 ounces dark chocolate, chopped
1 teaspoon orange zest, freshly grated
½ cup heavy cream
Pink sanding sugar, optional
For White Chocolate raspberry Truffles:
17 ounces white chocolate, roughly chopped and divided
½ cup heavy cream
24 raspberries
Powdered sugar, optional
For Shortbread Truffles:
3 cups shortbread cookie crumbs, finely ground
6 ounces cream cheese, softened
12 ounces milk chocolate chips
To get the full recipe please use the link below
http://www.shared.com/these-no-nonsense-3-ingredient-holiday-truffles-will-be-the-star-of-your-party/?utm_source=foodbyshared&utm_medium=facebook&utm_campaign=food