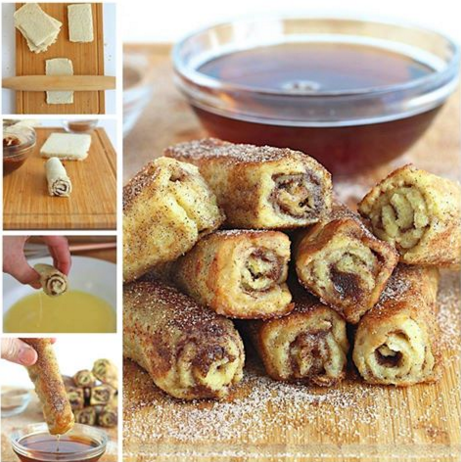 What a great way to start the day with these French Toast Roll-Ups that are so easy to make and tastes good you will want to make them every morning.

I really love this recipe for a great weekend breakfast treat that I am sure everyone will love.

Ingredients for
French Toast Roll Ups

8 slices soft white bread

For the filling:

3 tablespoons unsalted butter, melted
3 tablespoons white granulated sugar
2 tablespoons brown sugar
1 tablespoon ground cinnamon

For Frying:

2 large eggs
1/4 cup milk
3 tablespoons butter

For Serving:

2 tablespoons white granulated sugar
2 teaspoons ground cinnamon
maple syrup

How to Make French Toast Roll Ups

Trim the crust of each bread slice. Using a rolling pin, flatten them for about 1/8 inch thick.

To make the filling, combine melted butter, white granulated sugar, brown sugar, and cinnamon in a small bowl. Mix until well incorporated. Spread the filling on each bread and then roll them up tightly. Set aside.

In a separate small bowl, mix 2 tablespoons sugar and cinnamon. Set aside.

In another bowl, whisk eggs and milk. Heat up 3 tablespoons of butter in a large pan.

Dip each bread roll on the egg wash and fry them for 1-2 minutes per side or until golden brown. Place them on a serving plate and sprinkle them with cinnamon sugar. Serve with maple syrup.

To see the original recipe that inspired this one, check out the recipe for French Toast Roll Ups found at The Baker Mama.