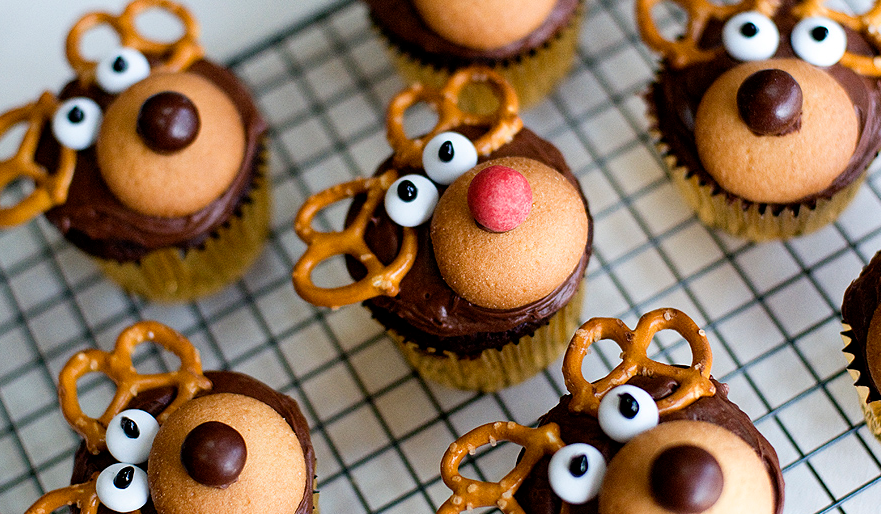 Welcome to 24 days Of Christmas Baking .. a count down to baking wonderful recipes for the family and friends to enjoy 
I love Christmas baking so I wanted to find you some recipes that I think you may love and share one with you each day ..
 Day 20

 ….

 Reindeer Cupcakes

What fun you will have making these Reindeer cupcakes with children … I think it will be such a fun Christmas activity to do with your children… I just had to find you a recipe that has that fun Christmas epect about it … love them

Here below for you is a basic chocolate cupcake recipe that is a good one for the cupcakes that is brought to you by Cupcake Savvy's Kitchen

INGREDIENTS:

2 Cups All Purpose Flour
2 Teaspoons Baking Powder
3/4 Cups Caster Sugar
Pinch of Salt
1 Teaspoon Instant Coffee Granules
4 Tablespoons Cocoa Powder
3/4 Cup Milk
2 Large Eggs
2 Teaspoons Vanilla Extract
1/2 Cup Vegetable Oil

NB: Self Raising Flour can also be used in place of the Cake Flour and Baking Powder.

To make the Reindeer Cupcake 

 Ingredients 

Chocolate frosting (here is a link to a frosting recipe )

Pretzels for antlers

 Nilla wafers  for muzzles

 White Mint M&M's for eyes

Black icing 

 Brown M&M's for noses (some red for Rudolph)
Bake your cupcakes cupcakes ( you could use the recipe above or make  chocolate cupcakes from a box mix)

Frost your cupcakes with the chocolate frosting.

 Top with pretzels for the antlers, a Nilla Wafer for the face, white M&Ms for the eyes (or any other type of white candy), black icing for the eyeballs, and brown and red candies for the nose 
These are super easy to make and children will love them!!