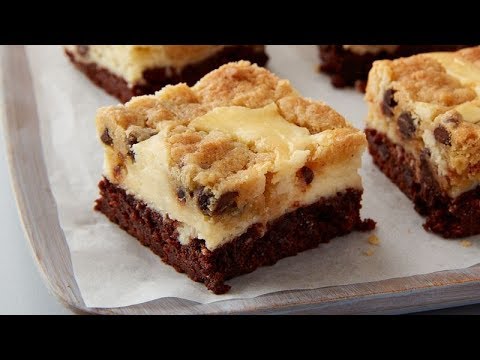 Looking for a great bake that is easy to make this weekend then how about these cookies and milk cheesecake brownies bars , they are bound to hit the spot for that perfect weekend treat
A really great bake to make if you are looking for that party treat or are visiting family or friends and you want to take a treat along with you
This great recipe has been brought to you by Betty Crocker on YouTube, thanks for sharing it with us
Here below is the video tutorial to watch and the recipe
Ingredients
Brownie Base
1 box (1 lb 2.3 oz) Betty Crocker™ fudge brownie mix
1/2 cup vegetable oil
3 tablespoons water
2 eggs
Cheesecake Layer
2 packages (8 oz each) cream cheese, softened
3/4 cup sugar
2 eggs
1 teaspoon vanilla
Chocolate Chip Cookie Layer
1 pouch (1 lb 1.5 oz) Betty Crocker™ chocolate chip cookie mix
1 tablespoon Gold Medal™ all-purpose flour
1/2 cup butter, softened
1 egg
Steps
1. Heat oven to 350°F. Grease bottom only of 13×9-inch pan with shortening or cooking spray.
2. In large bowl, mix Brownie Base ingredients until well blended. Spread in pan. Bake 20 minutes.
3. Meanwhile, in large bowl, beat cream cheese with electric mixer on medium speed until smooth. Add sugar; beat until blended. Add 2 eggs and vanilla; beat just until blended. In medium bowl, stir together chocolate chip cookie mix and flour. Add softened butter and 1 egg; stir until soft dough forms.
4. Spread cheesecake layer mixture over hot brownie base. Drop teaspoonfuls of chocolate chip cookie dough over cheesecake layer.
5. Bake 35 to 40 minutes or until cookie is golden brown. Cool 1 hour. Refrigerate at least 3 hours before cutting and serving. Cut into 6 rows by 5 rows. Store covered in refrigerator.