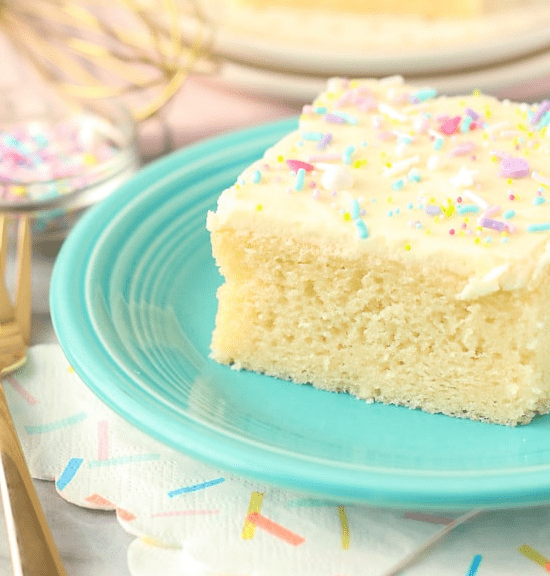 I am always looking out for new and interesting recipes that are easy to make, but with delicious results, so I was pleased to find this recipe for a Moist Vanilla Cake. The sour cream is an essential ingredient to keep the cake moist, and using high-quality vanilla extract can elevate more of the taste.

This cake is also a great base for any frosting. You can decorate it too with colored sprinkles or pearl candies.

Ingredients for Vanilla Cake
For the cake batter:
2 cups granulated sugar
1/2 cup vegetable oil
3 large eggs
1 tablespoon vanilla extract
1/2 cup light sour cream
2 1/2 cups all-purpose flour
3 teaspoons baking powder
1 teaspoon salt
1 1/4 cups nonfat milk

For the vanilla buttercream frosting:
3/4 cup unsalted butter, cold
2 1/2 cups powdered sugar
1 teaspoon vanilla extract
1 tablespoon heavy whipping cream

How to Make Moist Vanilla Cake

In a large bowl, beat sugar, oil, eggs, and vanilla extract until well combined. Add sour cream and beat again.

In a separate bowl, mix flour, baking powder, and salt. Add half of the dry ingredients to the wet mixture and half of the milk and beat until incorporated. Add the remaining of the dry ingredients and milk again and beat until thoroughly blended.

Pour the batter in a 9×13 inch pan. Bake in a preheated oven at 350°F for 28 to 32 minutes or until skewers inserted come out clean. Remove from the oven and cool completely before frosting.

For the frosting: Cut the butter into small cubes. Whip the butter using the paddle attachment for 5 to 7 minutes until pale in color. Scrape the bowl with a spatula occasionally. Add the sugar and beat at low speed until combined. Add vanilla extract and heavy cream and continue beating until all ingredients are incorporated. Increase speed to medium-high and beat again for 3 to 5 minutes until frosting is light and airy. Using an offset spatula, spread frosting over the cooled cake.

To see the original recipe that inspired this one, check out the recipe for Moist Vanilla Cake found at Beyond Frosting.