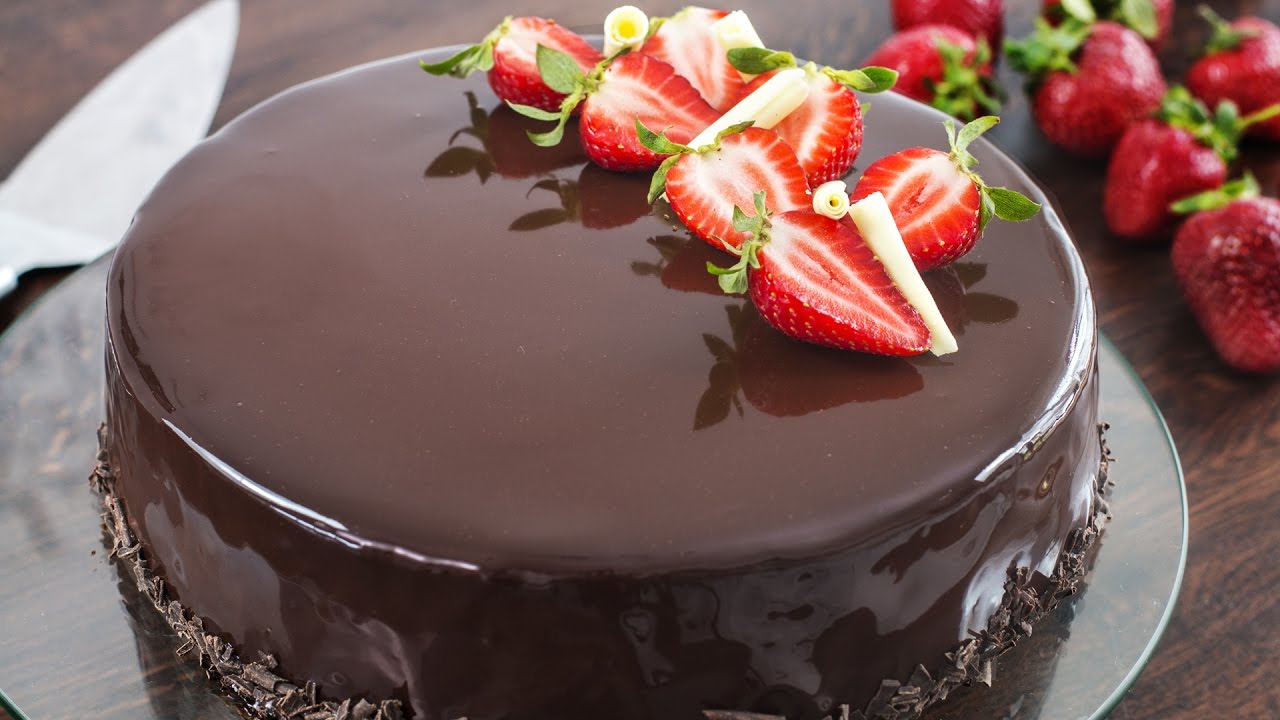 Mirror cake are great fun to make and of course to eat they have that eye catching appeal about them , but some of us still are not quite sure how to make them as the glaze can be a little tricky so how about having a go at making this amazing Strawberry Chocolate Mirror , I was so pleased when I found the recipe as it is a video tutorial which is great when it shows you visually how to make the mirror glaze
This great recipe has been brought to you by Home Cooking Adventure on YouTube and on homecookingadventure.com, thanks for sharing this recipe with us
Here below is an excerpt about this cake and the recipe
Mirror cakes are not difficult at all to prepare and they look pretty stunning. But mirror cakes need a bit more organization than other desserts, and need to be made in advance, as mirror glazes can be poured only on chilled cakes.

If you want to try this recipe I suggest to make the strawberry jelly and chocolate cake in the morning, to let them time to cool and freeze. In the afternoon make the white chocolate mousse, assemble the cake and freeze overnight. The next day prepare the mirror glaze and once done refrigerate the cake for several hours to defrost completely before serving. Once the cake is defrosting you cam prepare the white chocolate curls if desired.
Ingredients
Makes about 12 servings
Strawberry Jelly 10 oz
(300g) fresh or frozen strawberries, cut into quarters
2 tbsp (30g) sugar
1/2 tbsp (5g) gelatin powder
2 tbsp (30ml) cold water
Chocolate Cake
3/4 cup (100g) flour
1/4 cup (30g) cocoa powder
3/4 tsp (5g) baking soda
1/2 tsp (2g) salt
1 egg
1/2 cup (100g) sugar
1 tsp (5g) vanilla extract
3 tbsp (45g) oil
3.5 oz (100g) buttermilk
3.5 fl oz (100ml) boiling water
White Chocolate Mousse
8 oz (230g) white chocolate, cut in small pieces
2/3 cup (160g) whipping cream
1 2/3 cup (400g) whipping cream (35% fat), chilled
2 tsp (7g) gelatin powder
3 tbsp (45 ml) cold water
Chocolate Mirror Glaze
3.5 oz (100g) sweetened condensed milk
6 oz (175g) semisweet chocolate, cut in small pieces
3/4 cup (150g) sugar
3.5 fl oz (100ml) water
1 tbsp (10g) gelatin powder
1/4 cup (50ml) cold water
3 tbsp (25g) unsweetened cocoa powder
1. Prepare the strawberry jelly. In a small bowl place the gelatin and cold water and let swell for 5-10 minutes.
2. Meanwhile in a small saucepan place the strawberries and sugar and place over medium-low heat. Bring to a simmer, cook for about 5 minutes and remove from heat. Blend the mixture to make a smooth sauce. Pass through a strainer to remove the seeds.
3. Dissolve gelatin over very low heat and mix with the strawberry puree.
4. Line a 8 inch (20 cm) round pan with plastic wrap.
5. Pour the strawberry puree into the pan and freeze for at least 4 hours or even overnight. Cover with plastic wrap after the first hour.
6. Prepare the chocolate cake. Preheat oven to 350F (180C). Grease and line with parchment paper a 8 inch (20 cm) round cake pan.
7. In a large bowl whisk together the flour, cocoa powder, baking soda and salt.
8. In another bowl mix sugar with egg and oil until combined. Mix in buttermilk and vanilla extract. Incorporate flour mixture until well combined. Add hot water and mix to combine. The batter will have a runny consistency.
9. Pour the batter into the prepared pan.
10. Bake for about 30 minutes until a toothpick inserted into the center comes out clean or with few crumbs attached.
11. Let cool completely.
12. Prepare the white chocolate mousse. In a heat proof bowl add the white chocolate and 2/3 cup (160g) whipping cream. Place the bowl over a saucepan with simmering water, over low heat until all the chocolate is melted. Meanwhile dissolve gelatin in cold water and let it swell for about 5 to 10 minutes. Place the gelatin over low heat just until the gelatin dissolves and pour it over the melted chocolate mixture. Let the chocolate mixture cool completely at room temperature.
13. Whip the remaining 1 2/3 cup (400g) cold whipping cream until stiff peaks form. Add melted chocolate mixture and mix until well combined.
14. Assemble the cake. Line with parchment paper a 9 inch (23 cm) pan. You can use a springform pan or a cakeware pan like the one I have from Delicake.
15. Place the chocolate cake in the middle of the pan. Add half of the white chocolate mousse on top and fill the edges. Add the strawberry jelly in the middle on top of the mousse. Add the remaining half of white chocolate mousse and spread evenly.
16. Cover and place in the freezer overnight.
17. Prepare chocolate mirror glaze. In a small bowl place the gelatin and cold water and let swell for 5-10 minutes.Place the chocolate in a bowl and set aside.
18. Place water, sugar, condensed milk and cocoa powder in a saucepan. Bring it just to a boil and remove from heat. Stir in the bloomed gelatin until it is dissolved.
19. Pour the hot cocoa mixture over chocolate. Let sit for about 5 minutes until the chocolate is melted. Use an immersion blender and blend until smooth. Sieve the glaze and let it cool to 90-95F (32-35C) before pouring over the frozen cake.
20. Take the cake out of the freezer and use a hair dryer to defrost the edges. Remove the cake from the pan and place it over a rack or simply on a bowl placed over a parchment paper lined baking sheet to collect the excess.
21. Pour the glaze on top and edges of the cake. Use an offset spatula to remove the drips and decorate the bottom of the cake with grated chocolate. Transfer the cake to a serving platter and refrigerate for several hours to defrost the cake and set the glaze.