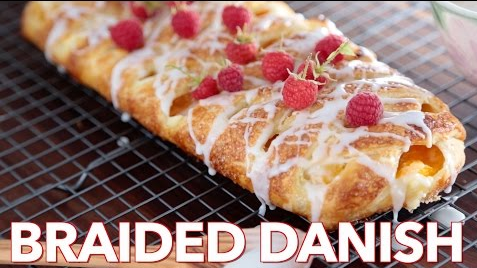 Braided Danish filled with peach cream cheese is an impressive, fancy, easy to make dessert that is inexpensive and makes a great fit for holidays.
If you need a recipe to impress a loved one during the holidays, this is your go-to recipe.
In case you're wondering what a Danish pastry is, it is a kind of rich and buttery pastry that was made by multiple rolling, buttering, folding, and chilling to create a multilayered dough. It can be filled with literally any kind of filling and baked to give a yummy dessert.
This particular recipe is one that I love for its incorporation of peaches, and just like cinnamon swirl Danish, it can be served as dessert to a group of persons. It's not a one-man food, you'll need one or two person's assistance when eating peach cream cheese braided Danish.
It's perfect for an evening dinner with a lover. It would definitely put a smile on your partner's face if you place it on the dining table and garnish with berries cause we all love berries. Therefore, you should read on to learn this one in  a million recipe.
Ingredients for Easy Braided Danish Filled with Peach Cream Cheese 
¾ cup of cream cheese
¼ cup of granulated sugar
2 eggs
½ teaspoon liquid vanilla extract
½ teaspoon lemon juice
⅛ teaspoon salt
15 oz can sliced peaches
1 sheet puff pastry
1 tablespoon water
⅓ cup of confectioners sugar
½ tablespoon milk
How to Prepare Easy Braided Danish Filled with Peach Cream Cheese
In a large mixing bowl, put ¾ cup of cream cheese and ¼ cup of granulated sugar. Using an electric mixer, mix the two ingredients until they give a soft and smooth mixture. Into this mixture, add 1 egg yolk, ½ teaspoon liquid vanilla extract, ½ teaspoon lemon juice and ⅛ teaspoon of salt. Further mix for about 1 minute and set aside.
Cut about 8 peaches into one-quarter inch sizes and set aside. Alternatively, you can use a 15 oz can of sliced peaches. Drain the liquid in the can and cut the peaches in it to ¼".
Powder a parchment paper with some flour, place 1 sheet of puff pastry, sprinkle some flour on it and roll out to about 1 inch longer and using scissors, cut the top corners of the pastry. Now, assume the pastry is divided into three parts lengthwise, in the middle portion, spread your mixed cream cheese, leaving a 1-inch space at the top and bottom of the pastry.
Next, gently arrange on the creamed part of the pastry, the slices of peaches. Afterward, using the pair of scissors again, leave ½ inch space by the sides of the peach filling and cut the two sides of the pastry diagonally. Divide into 7, 8, or 9 strips of about 1 inch wide. Then, braid the pastry by flipping the cut sides one over the other. Start with the 1 inch left at the top of the pastry. Fold it over the filling and flip the two sides over it. On getting to the last strips on the two sides and the 1inch at the end of the pastry, fold over the bottom 1 inch first and wrap up by flipping the two sides over it.
Coat the braided pastry with egg. Break one egg into a bowl, whisk it and using a cooking brush, brush the pastry over with the egg. Now, carefully slide the parchment paper onto a baking sheet. Place in a preheated oven to bake for 25 minutes till the pastry appears golden brown. Once done, allow to cool and top with the sugar glaze.
To make the sugar glaze, mix ⅓ cup of confectioners sugar and ⅛ cup of milk. Drizzle the prepared glaze over the Danish in a criss-cross manner. For further topping, you could add some fresh berries.
To see the original recipe that inspired this one, check out the recipe for Peach Cream Cheese Braided Danish found at Natashas Kitchen.