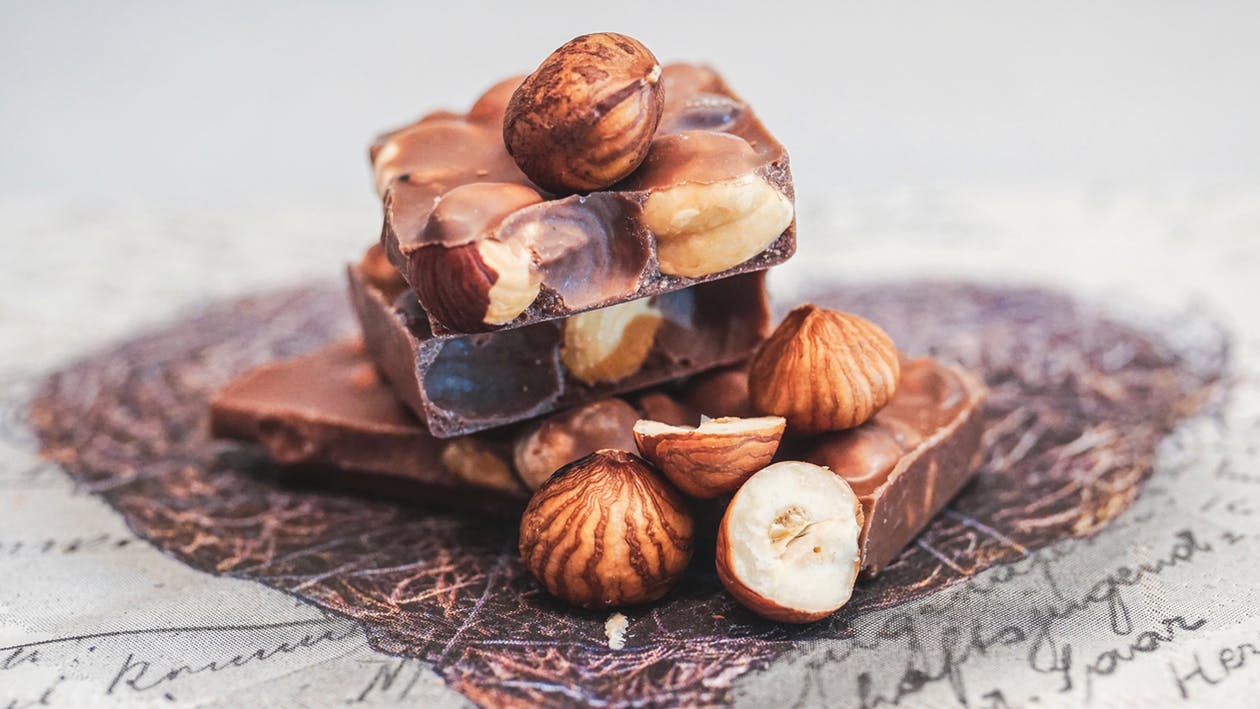 This amazing creamy chocolate bark is quite easy to make, and you probably already have most of the ingredients in your kitchen. It's dairy-free and without piles of sugar, tastes rather sweet, creamy, and light. For the ultimate combination, I used hazelnuts and chocolate to give that Nutella taste without all the nasties. This recipe will make 4-5 cups of a delicious treat.
I've always wanted to make something a bit healthier for my family, and considering the options out there; I just had to make something myself. My family is a dessert lover, including me. So, making a healthier dessert for all of us is one of my priorities. 
You can literally add anything to this bark like almonds, pecans, macadamias, dried fruit, chili flake, etc. My kids love almonds, so I made one batch with almonds and one batch with dried fruits. You can always add something that your loved ones like to this bark.
Ingredients for Hazelnut Chocolate Bark
3 cups raw hazelnuts or 1 ½ cups of nut butter* and 1 ½ cups of whole nuts
1 cup raw cacao butter
½ cup of coconut oil
½ cup + 2 tablespoons cacao powder
½ cup honey or to taste
2 teaspoons of vanilla extract
¼ – ½ teaspoon sea salt (to taste)
*If using nut butter, skip steps 1-3, below.
How to Make Hazelnut Chocolate Bark
Preheat your oven to 350°F. Line a baking tray and bake the hazelnuts for 7 minutes. Optional: between 2 layers of a tea towel, rub off the hazelnut skins. Blend ½ the nuts in a high powered blender until a smooth consistency form. Into small pieces, chop cacao butter, or pulse lightly in a food processor. Melt cacao butter over a double boiler and stir until melted. 
Add the rest of the ingredients (except the remaining whole hazelnuts) and stir over the heat until well combined. With baking paper, line a flat tray and pour the chocolate mixture into it, then sprinkle the remaining whole hazelnuts over the chocolate mixture. Place into the fridge for about 30 minutes to 1 hour to set. Break up into chocolate chards, serve, and enjoy. Store the leftovers in an airtight container and refrigerate.
To see other recipes for Hazelnut Chocolate Bark, check out: 
https://www.rebootwithjoe.com/hazelnut-chocolate-bark-recipe/
https://www.reddit.com/r/ketorecipes/comments/908es9/easy_hazelnut_cocochocolate_bark/
https://www.bostonglobe.com/lifestyle/food-dining/2015/02/10/recipe-for-chocolate-hazelnut-bark/2MhOAqQFWi6hp6Fyzp4R1I/story.html