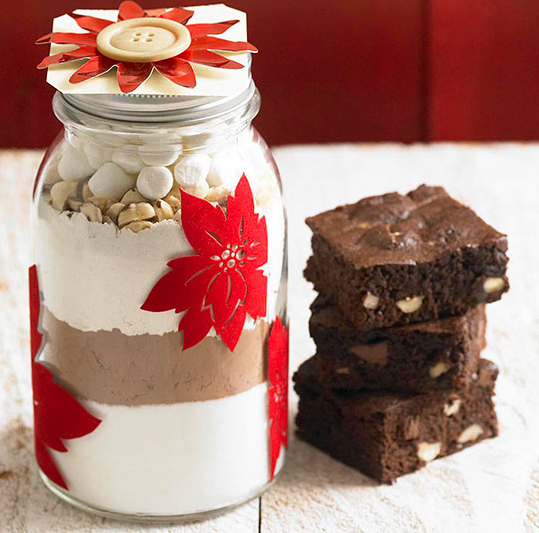 I love food gifts so I wanted to find you some recipes that I think you would love to put together for that friend or family member that loves to bake, so here for you is a recipe for Hazelnut Rocky Road Brownie
All you will need is a jar and ribbon and a label to write on or print on the recipe and then the ingredients for the food or drink gift jar .. it is a simple as that and you have a gift they will love to make
I was so happy to find this  gift recipe on bhg website , thank you for sharing it with us all as it is so good
Layer the dry ingredients for these sweet bars in a jar then give to friends and family as a holiday gift.
Here below is  the list of the ingredients you will need  for this homemade gift from the website .. you will need to use the link below to get the method on how to make this recipe so that you can print it off and put in on the jar
Homemade brownie mix in a jar is a great gift for families. Our recipe features rich cocoa powder, gooey marshmallows, and a layer of crunchy hazelnuts. Pour the ingredients into the jar one by one, and then decorate it for the season. (We used velvet stickers to jazz up the sides of the jar.) For the flower topper, layer a paper tag, a vintage foil flower, and a large button; adhere them together with a few dabs of hot glue.
Hazelnut Rocky Road Brownie Mix