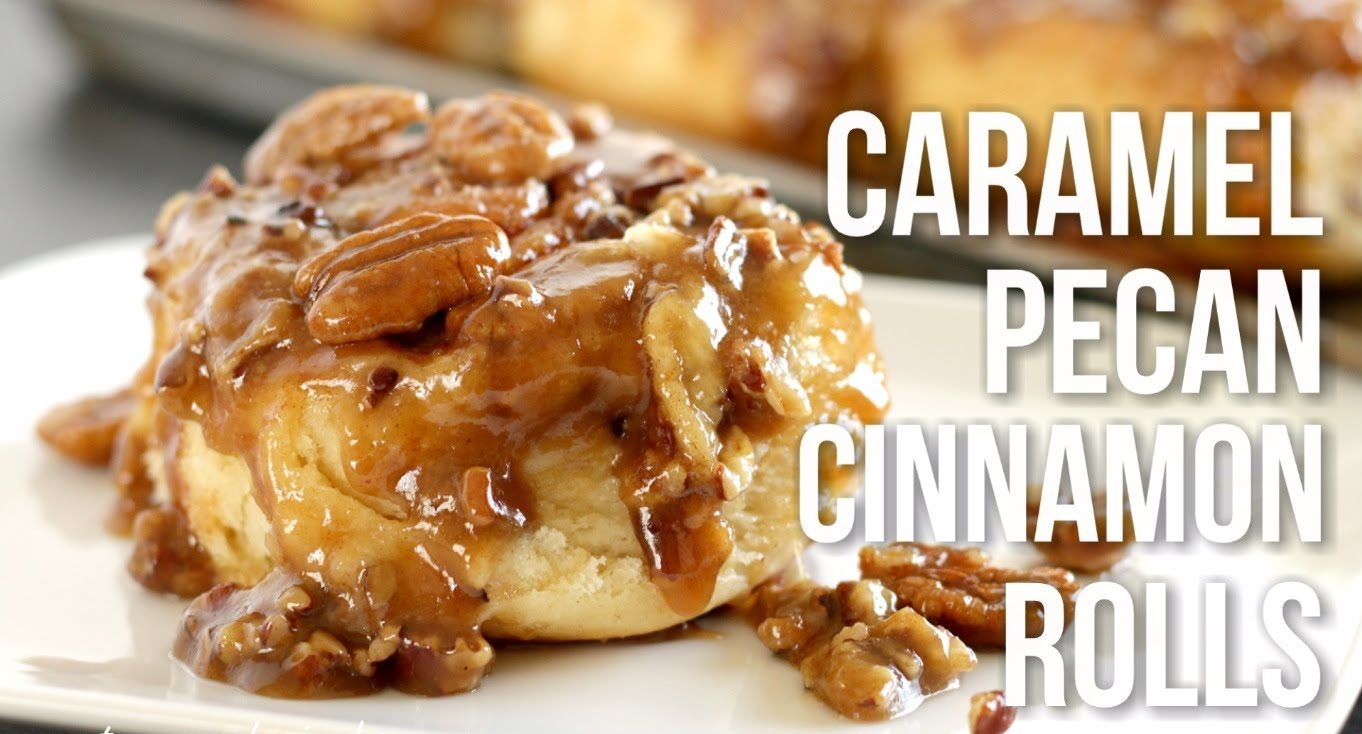 I love sticky bun recipes, and these caramel pecan cinnamon rolls are simply delicious. Imagine sitting at the breakfast table enjoying one of these rolls with a mug of latte sounds so good, doesn't it? Make this today to celebrate National Sticky Bun Day.

Ingredients
For the dough:
1/2 cup granulated sugar
1 cup milk, warm (heat up about 175°F)
2 teaspoon active dry yeast
5 tablespoon butter, softened
2 large eggs, lightly beaten
1 teaspoon salt
4 cups all-purpose flour
2 tablespoons vegetable oil

For the filling:
6 tablespoon butter, softened
1 cup packed light brown sugar
2 tablespoons ground cinnamon

For the caramel sauce:
6 tablespoons butter
1 1/4 cups packed light brown sugar
3 tablespoons heavy cream
1 tsp teaspoon vanilla extract
1 cup pecans, halves or chopped

How to Make Caramel Pecan Cinnamon Rolls

In a mixing bowl, beat milk and sugar until the latter dissolves. Make sure the mixture is not too hot before adding the yeast. Let the yeast sit for 5 minutes until it foams up. Add butter, eggs, salt, and 2 cups of flour. Beat until combined and then gradually add the other 2 cups of flour, scraping the sides of the bowl to ensure the rest of the ingredients are well incorporated, and you form a loose dough.

Dust some flour on your work surface. Gently knead the dough for a couple of minutes until nice and soft. Grease another large bowl and your dough with vegetable oil and then cover it with a kitchen towel and place it in a warm place for about 1 hour and 30 minutes until the dough doubles in size.

Make the caramel sauce while the dough is resting. In a small saucepan, combine butter, sugar, heavy cream, and vanilla extract. Cook in medium heat and bring it until it just bubbles while stirring continuously using a whisk. When it bubbles, turn off the heat and continue to stir to dissolve the sugar and cool it down for about 10 minutes. Don't cook it for a longer time because you might end up with hard caramel. When the sauce cools down, transfer it in a 9×13 inch baking dish. Sprinkle pecans on the sauce, distributing them evenly. Set aside.

When the dough has risen, gently remove from the bowl and place it on your work surface. Do not knead the dough; just gently pat it into a square shape and then use a rolling pin to flatten it and make a rectangular with about 16×21 inch size.

For the filling: rub the butter in the dough, leaving an inch bottom uncovered because we will use it to seal the dough. Mix sugar and cinnamon and spread to the dough evenly. Starting from the top, gently roll the dough and make sure to tuck it nicely. Seal it with the 1-inch bottom we left uncovered with butter and cinnamon mixture. Using a thread or unflavored dental floss, cut the log into 12 pieces. Start in the middle to cut it in half, then another half, and then into quarters.

Place the rolls on the baking dish with caramel sauce and pecans—Preheat the oven at 375°F for 10-15 minutes. Bake them for 18 to 22 minutes until golden brown. When cooked, rub some butter on top of the rolls. Allow the cinnamon rolls to rest for about 10 minutes before you flip them over.

Put a cookie sheet on top of the baking dish and quickly turn it over and let the caramel sauce drip down to the rolls. Serve them hot or store them in an airtight container and just warm them up for 10-15 seconds when you're ready to eat.

To see the original recipe that inspired this one, check out the recipe for Caramel Pecan Cinnamon Rolls found at Crouton Crackerjacks.