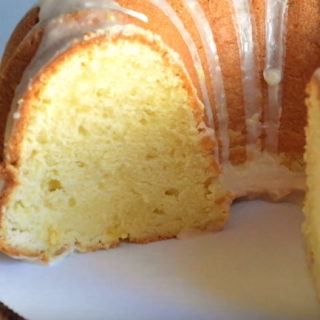 As the name implies, this cake has lemon and cream cheese, which elevated the flavor of the basic pound cake ingredients. Plus, the lemon glaze on top makes it a masterpiece.

Citrus fruits like lemon can balance out the sweetness in a recipe, and it was proven on this Lemon Cream Cheese Pound Cake. It has the right amount of sweetness that I really like.

Another thing that I adore about this recipe is the bundt cake pan itself. I love their aesthetic appeal; that is why I want to collect every shape and design like the lotus, rose, star, castle, and many more.

I hope you give this recipe a try.

Ingredients
For the cake batter:

4 fresh whole lemons
zest of 1 lemon
1/4 cup fresh lemon juice
3 sticks of unsalted butter + 2 tablespoons for greasing, softened
8 ounces cream cheese,room temperature
3 cups granulated sugar
6 large eggs, room temperature
3 cups cake flour + 2 tablespoons for bundt pan, sifted
1/4 teaspoon baking soda
1/2 teaspoon salt

For the lemon glaze:

1 1/2 cups powdered sugar
1 tablespoon fresh lemon juice
zest of 1 lemon
2 tablespoons milk

How to Make Lemon Cream Cheese Pound Cake

Grease a 12cup capacity bundt pan with 2 tablespoons of butter and dust with 2 tablespoons of cake flour. Also, zest 2 lemons before extracting their juice—one to be used for cake batter and the other for the lemon glaze.

In a large bowl, beat the butter and cream cheese until smooth using a hand mixer. Scrape the sides of your bowl and then add sugar and beat again. Add one egg at a time, ensuring each one is thoroughly blended while scraping the sides of the bowl. Pour the lemon juice and beat again until well combined. Mix sifted flour, baking soda, and salt. Add 1 cup of cake flour at a time. Scrape the sides of your bowl when flour gets on the outer rim of the bowl. Beat the mixture until nice and smooth. Add the lemon zest and fold in the mixture using a spatula.

Pour the batter in the prepared bundt pan. Bake for 20 to 30 minutes at 325°F or until a toothpick inserted comes out clean. Let the cake cool in the pan for 10 minutes and then transfer it on a wire rack and let it cool for at least 1 hour.

For the glaze, whisk together sugar, milk, lemon juice, and zest until no lumps. Drizzle over the cooled cake.

To see the original recipe that inspired this one, check out the recipe for Lemon Cream Cheese Pound Cake found at Cooking with Carolyn.