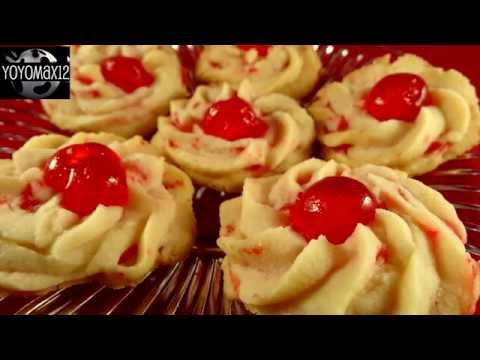 Shortbread cookies are always a popular one at  Christmas so this recipe had to make it to the bake some cookies day seen as it is so close to the festive season
I really love shortbread it melts in your mouth and with that cup of coffee they certainly are one of my favourites so I hop they are yours too
Just imaging having a batch of these cookies to offer over the festive season
This great recipe is brought to you by Tammy from yoyomax12 – the diet free zone on YouTube , thanks for sharing this recipe with us
Here below is a list of the ingredients you will need from the YouTube channel
1 cup unsalted or salted butter (if you use salted omit the salt listed later in this recipe)
1/2 cup icing sugar
1/4 tsp vanilla or almond extract
1 1/3 cups all purpose flour
1/3 cup cornstarch
1/4 tsp salt (omit if using salted butter)
1/2 cup finely chopped glace/candied cherries

Whip the butter and icing sugar together until very light and fluffy and until the colour changes to a very light yellow. Blend in extract.
In another bowl, combine the flour, cornstarch and salt (if using).
Add the flour mixture to the butter mixture in 2 or 3 additions and stir until combined. The dough will be soft and sticky.
Stir in the chopped cherries.
Drop by tablespoonfuls on a cookie sheet covered with a silicone mat or parchment paper OR pipe onto cookie sheet using a large open star tip (if you use a small tip, the cherries will get stuck and clog the end). These don't spread much so you can crowd them.
Top each cookie with a half or a piece of cherry.
Bake at 350F for about 12 minutes until edges and bottoms are light brown. Allow to cool completely on cookie sheet before removing them.
These freeze well.
Makes about 2 dozen 2 inch cookies.
Want plain shortbread? Just omit the 1/2 cup chopped cherries.

Found in a Canadian Living Christmas Cookies magazine.