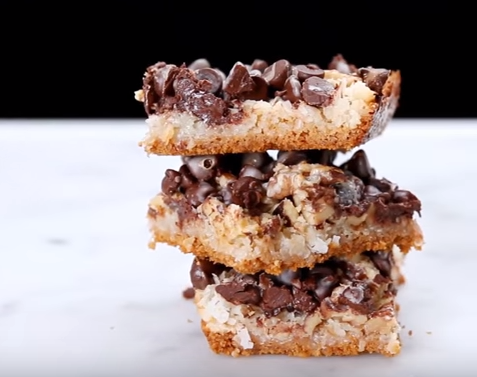 These amazing looking bars are named Dolly Parton Bars because Melissa Burke created this delicious cookie recipe, adapted from the Hello Dolly recipe, and in honor of Dolly Parton. Although they are still named magic cookie bars in some parts of the world, either way, they are good and are more than worth making, so when I came across this recipe, I just had to share it with you.

Ingredients

1 1/2 cups graham cracker crumbs
1/2 stick butter
pinch of salt
pinch of sugar
1 1/2 cups shredded coconut
1 cup chopped walnuts
1 bag semisweet chocolate chips
1 can sweetened condensed milk

How to Make
Magic Cookie Bars

Mix butter, graham cracker crumbs, pinch of salt, and sugar. Press down the mixture in a greased 9×13 inch glass dish: Layer the shredded coconuts, walnuts, and chocolate chips. Pour the condensed milk over the mixture, spreading evenly.

Bake at 350°F for 30 minutes. Remove from the oven and let it cool before cutting into bars.

To see the original recipe that inspired this one, check out the recipe for Dolly Parton Bars found at Tasty Food Official.