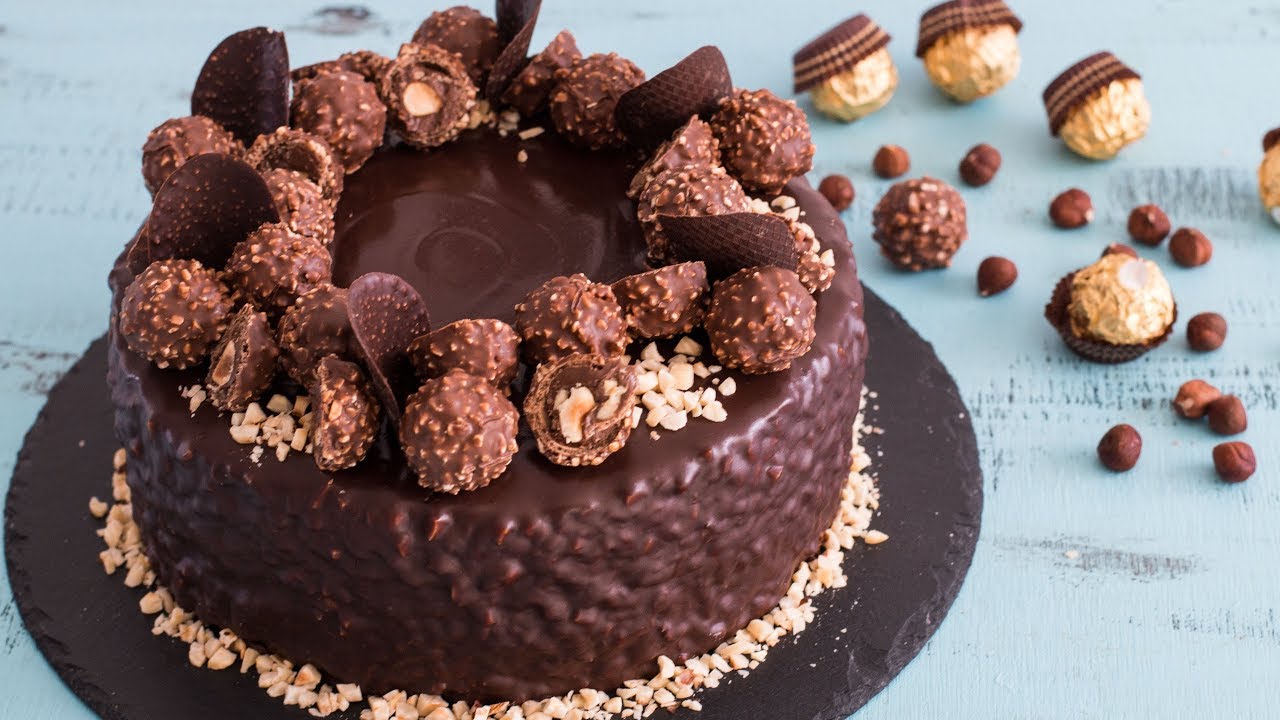 What an amazing cake to make if you want to impress , this Ferrero Rocher Cake has it all I think great to make for the holiday season as it has that touch of festive about it .. I love it and for that reason I just had to share this recipe onto you all
One of thoes cakes that you just want a slice of I think with a hot drink so what are you waiting for make one this season and serve it to your family and friends over the holidays they will love it
This great recipe has been brought to you by Home Cooking Adventure on YouTube and on homecookingadventure.com, thanks for sharing this recipe with us
Here below is an excerpt about this cake and a list of the ingredients and the video tutorial
If you like Ferrero Rocher truffles you will definitely love this heavenly Ferrero Rocher cake inspired by their richness and flavor.  The cake consists of chocolaty brownie layers, alternating with hazelnut meringue layers, filled with nutella frosting and chocolate ganache, coated with toasted hazelnuts and topped with an amazing chocolate glaze.
The cake is decorated with Ferrero Rocher truffles for an impressive look that makes it totally irresistible. By far one of the most delicious and rich cakes you can ever prepare for upcoming holidays or any special occasion.

It may not be the easiest cake to prepare but the efforts are definitely rewarded and your guests or family will be simply delighted. Enjoy!
Ingredients
Makes about 18 servings

Brownie Layers

3.5 oz (100g) semisweet chocolate
3/4 cup (170g) butter
1 tsp (2g) instant coffee powder
1 tbsp (8g) unsweetened cocoa powder
1 cup (200g) sugar
1/2 tsp (3g) salt
3 eggs
1 tsp (5g) vanilla extract
3/4 cup (95g) flour
1 oz (30g) semisweet chocolate, chopped, divided in 3

Hazelnuts

2 cups (300g) hazelnuts, whole, divided

Meringue Layers

1/2 cup (75g) hazelnuts, toasted and grounded
1/2 cup (60g) powdered sugar, divided
4 tbsp (60g) sugar, divided
3/4 cup (95g) all-purpose flour
4 egg whites
1 tbsp (15ml) lemon juice
Pinch of salt

Chocolate Ganache for filling

7 oz (200g) semisweet chocolate
3/4 cup (200g) whipping cream

Nutella Frosting

5.5 oz (160g) semisweet chocolate
2/3 cup (160g) whipping cream
1/2 cup (60g) unsweetened cocoa powder
3/4 cup (200g) nutella
1 1/2 tsp (7g) vanilla extract
1 1/3 cup (300g) butter, room temperature

Chocolate Glaze

7 oz (200g) semisweet chocolate, small pieces
1/4 cup (56g) butter
1/4 cup (50g) sugar
2/3 cup (160ml) milk

For decorating

Ferrero Rocher truffles
chocolate chips/curls
chopped hazelnuts
To get the full recipe please use the link below
http://www.homecookingadventure.com/recipes/ferrero-rocher-cake