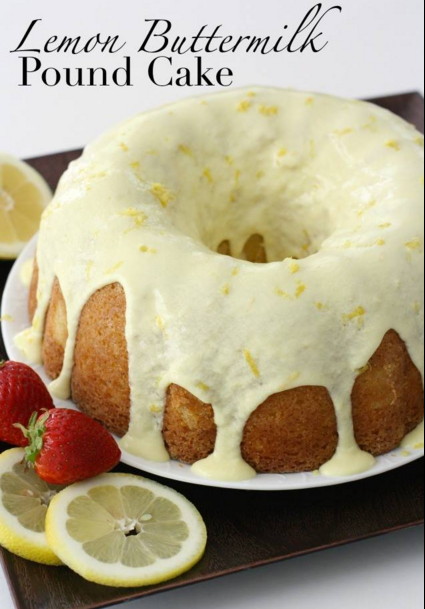 The buttermilk makes this Lemon Buttermilk Pound Cake moist, and the addition of citrus flavor and a good amount of lemon glaze drizzled on top creates a harmonious taste for this cake.

The baking process for this cake is so easy. You just need to mix ingredients for the batter and dump it on a bundt cake, which is the same for the glaze; you just need to whisk the ingredients together, and you are done.

You can garnish the cake with lemon zest, but you can also use lemon slices. Enjoy your afternoon tea with this delicious cake.

Ingredients

2 1/2 cups white sugar
1 1/2 cups butter softened
4 eggs
3 1/2 cups all-purpose flour
1/2 teaspoon salt
1/2 teaspoon baking soda
1 cup buttermilk
2 tablespoons lemon juice
1 tablespoon lemon zest

For lemon glaze:

2 cups powdered sugar
2 tablespoons softened butter
2 tablespoons lemon juice
2 teaspoons lemon zest
1 tablespoon milk
extra lemon zest for garnish on top

How to Make Lemon Buttermilk Pound Cake

Preheat the oven to 350°F. Grease and flour a bundt cake pan.

In an electric mixing bowl, cream the butter and sugar until fluffy. Add eggs one at a time, making sure each is well incorporated into the mixture.

In a separate bowl, mix flour, salt, and baking soda. Gradually add flour mixture about 1 cup, to the butter mixture and mix well. Add ½ cup of the buttermilk and beat again until well combined. Repeat the process for the remaining flour and buttermilk. Pour lemon juice and add zest into the batter. Beat again until the batter is smooth. Put the batter into the prepared bundt pan.

Lower oven temperature to 325°F and bake the cake for 70 to 75 minutes. Remove from the oven and let it cool for 10 minutes in the pan before transferring the cake into a serving platter.

While waiting for the cake to cool down, make the lemon glaze. Combine sugar, softened butter, milk, lemon juice, and zest. Whisk until the glaze is smooth. Once the cake has cooled down, pour the glaze on top and let it drip on the sides and center. Garnish with lemon zest.

To see the original recipe that inspired this one, check out the recipe for Lemon Buttermilk Pound Cake found at Butter with a side of Bread.