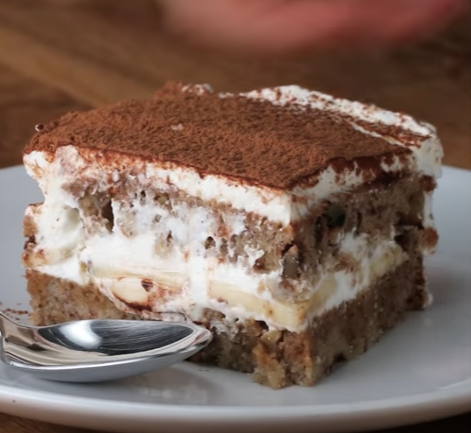 I love Banana Bread as well as Tiramisu with the traditional ladyfingers. That is why combining these two for one delightful dessert is like hitting two birds at one stone because I can satisfy both of my cravings.

For this dessert, I use banana bread as a substitute for ladyfingers. I sometimes double the recipe for banana bread so I can eat some for breakfast together with a hot cup of coffee and enjoy this Banana Bread Tiramisu for our dinner dessert. We usually have a light dinner meal so we can have more room for this delicious treat.

Ingredients for Banana Bread Tiramisu
For the Banana Bread:
4 ripe bananas, mashed
1 cup granulated sugar
2 eggs
1/2 cup butter, softened
1 teaspoon vanilla extract
1 1/2 cups flour
1 teaspoon baking soda
1/2 teaspoon salt
1 cup crushed walnuts

For the Tiramisu Filling:
3 cups heavy whipping cream
3/4 cup sugar
2 fresh bananas, sliced
2 teaspoons instant espresso
4 tablespoons water

For Garnishing:
1/4 cup cocoa powder

How to Make Banana Bread Tiramisu

Preheat the oven to 350°F and line a loaf pan with parchment paper. Mashed banana using a fork and set aside.

In a bowl, beat sugar, eggs, butter, and vanilla extract using a hand-held mixer or whisk. Add mashed banana and fold in the mixture using a spatula. Sift dry ingredients: flour, baking soda, salt, and add in the mixture. Beat again until well combined. Add walnuts and gently stir with the spatula. Pour mixture into the loaf pan and bake for 1 hour until golden brown. Let it cool.

While waiting for the bread to cool down, beat sugar and whipping cream until stiff peaks form.

Slice the banana bread about half an inch thick. Arrange half of the slices in a glass dish. Dissolve instant espresso in cold water and using a brush, apply half of it on the bread slices. Using 1/3 of the whipped cream, cover the first layer of banana bread, and then arrange the fresh banana slices. Cover with another 1/3 of whipped cream. Add the next layer of banana bread brushed with coffee mixture, and the last 1/3 of whipped cream. Using a small sieve, dust cocoa powder on top.

To see the original recipe that inspired this one, check out the recipe for Banana Bread Tiramisu found at Tasty.