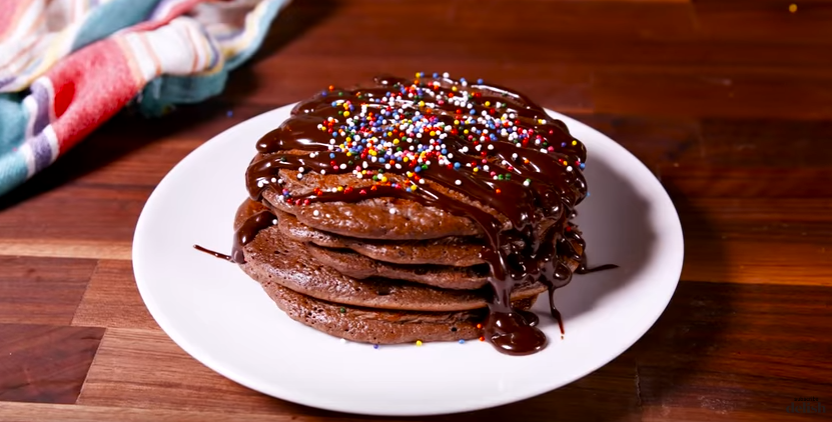 What a great way to start the day of then with a batch of brownie batter pancakes .. sounds so delicious to me that I just had to share this amazingly good recipe onto you all
Great to make for that relaxed family weekend breakfast or brunch
This great recipe is brought to you by Delish on YouTube, thanks for sharing this recipe with us
Here below is the recipe and the video tutorial both from the YouTube channel
Dessert for breakfast.
1. In a large bowl, whisk together flour, brownie mix, baking powder, baking soda and salt until evenly combined. Beat in eggs, milk and vanilla. Fold in chocolate chips.
2. Heat a large nonstick pan over medium heat. Grease the pan with cooking spray, then spoon about 1/4-cup pancake batter into the pan. When little bubbles appear and start to pop, flip (about 1-2 minutes). Cook until browned on both sides.
3. Drizzle with chocolate syrup and top with sprinkles, if desired.
INGREDIENTS
1 c. flour
1 1/4 c. brownie mix
1 tsp. baking powder
1 tsp. baking soda
1/2 tsp. salt
2 eggs
1 c. milk
1 tsp. vanilla extract
1/2 c. chocolate chips
Cooking spray
rainbow sprinkles, for serving (optional)
Chocolate syrup, for serving (optional)