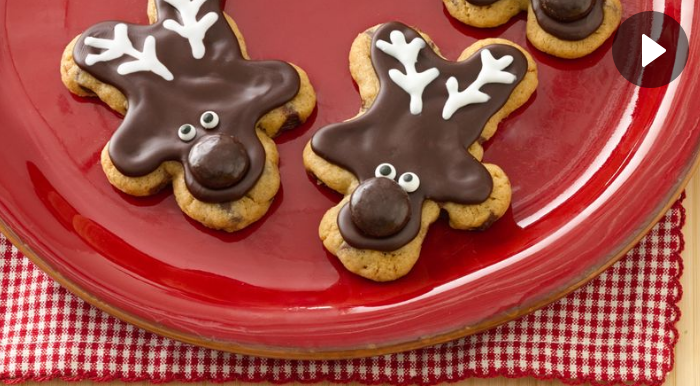 Welcome to 24 days Of Christmas Baking .. a count down to baking wonderful recipes for the family and friends to enjoy 
I love Christmas baking so I wanted to find you some recipes that I think you may love and share one with you each day ..
 Day 7

….  

Chocolate Chip Reindeer Cookies

Children will love to help make these cookies as they are fun and easy to make , I choose this recipe for day 7 baking for Christmas as these cookies use a cookie mix which make it so eay for little ones to help as the mix is ready to go no fuss.. these cookies certainly will put a smile on everyones face

This great recipe has been brought to you by bettycrocker.com website ,thanks for sharing this recipe with us

Here below is an excerpt about this recipe from the website along with the ingredients you will need  .. happy baking
Bake a batch of these frosted Betty Crocker® chocolate chip mix Rudolphs for dessert. Even Santa won't be able to resist these cute reindeer cookies on Christmas Eve.
Ingredients
1 pouch Betty Crocker™ chocolate chip cookie mix
1 tablespoon Gold Medal™ all-purpose flour
1/2 cup butter or margarine, softened
1 egg
2 pouches (7 oz each) Betty Crocker™ Decorating Cookie Icing chocolate icing
32 candy eyes
16 small round chocolate-covered creamy mints
1 pouch (7 oz) Betty Crocker™ Decorating Cookie Icing white icing