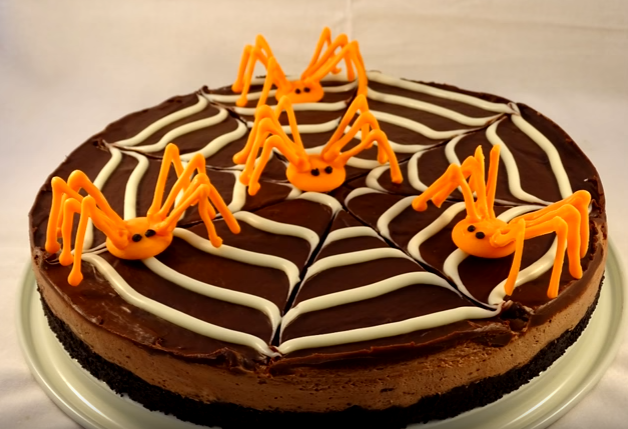 What a wonderful chocolate tart to make for Halloween ,, I really love the way that this tart looks with that great spiderweb and spiders .. what fun
I am sure this tart will go down well at you party so why not check out this recipe below
This great recipe has been brought to you by Tammy from yoyomax12 – the diet free zone on YouTube , thanks for sharing this recipe with us
Here below is the recipe and the video tutorial from the YouTube channel
Crust:
1 1/2 cups oreo crumbs
4 tbsp butter, melted
Filling:
8 oz cream cheese (room temperature)
1/4 cup white sugar
1/4 cup unsweetened cocoa
1/2 tsp vanilla extract
2 3/4 cups Cool Whip topping
Ganache topping:
1/4 cup heavy whipping cream
3 oz semi sweet chocolate chips
Spiderweb:
1 tbsp heavy whipping cream
2 oz white chocolate chips
Orange candy melts for spider bodies and legs and some black frosting for eyes.
Combine cookie crumbs and melted butter together and press into the bottom of a 9″ spring form or tart pan with removable bottom.
Set aside.
Beat cream cheese until smooth and then beat in the white sugar.
Beat in cocoa and vanilla extract.
Beat in 2 cups of Cool Whip on low and then fold in an additional 3/4 cup cool whip.
Spread over the crumb layer.
Set aside.
Heat 1/4 cup whipping cream until very hot and pour over chocolate chips in a small bowl. Allow to sit for 2-3 minutes and then stir until smooth and glossy. Spread over the filling layer.
Place white chocolate and 1 tbsp cream in a small bowl and heat in microwave until cream is hot. Stir until smooth.
Place white chocolate ganache in a piping bag with small round tip or zip lock bag with small corner cut out and pipe a spiral shape starting from the center.
Drag a toothpick through the spiral to make spiderweb.
I made 8 of them, make more if you want smaller slices.
Make spiders as explained in video and place on tart just before serving.