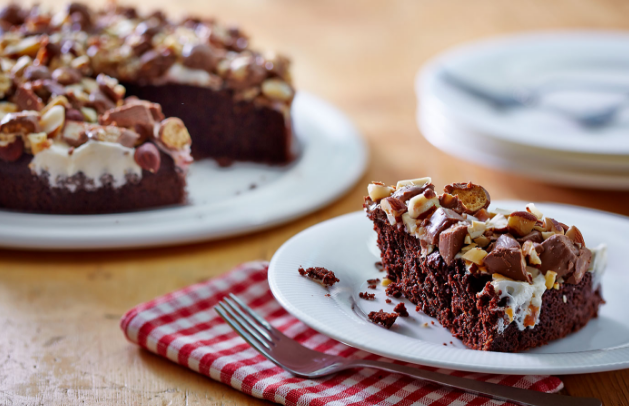 Welcome to 24 days Of Christmas Baking .. a count down to baking wonderful recipes for the family and friends to enjoy 
I love Christmas baking so I wanted to find you some recipes that I think you may love and share one with you each day ..
 Day 5

 …. 

Christmas Rocky Road Cake

I love rocky road it is so delicious so when I came across this recipe I just had to share it with you for Day 5 recipes as it is one that I think you will love

A great cake to have once you have done your Christmas shopping make it the day before and you will be ready to have a slice when you get back with a hot mug of coffee .. sounds good to me

I really hope you enjoy this bake …

This great recipe has been brought to you by Tesco on YouTube and on the website realfood.tesco.com,thanks for sharing this recipe with us

Here below is a list of the ingredients from the website and the video tutorial from YouTube
Make the most of all that tasty Christmas chocolate with this delicious festive rocky road cake from Izy Hossack, baker and author of Top With Cinnamon. This sensational Christmas dessert features a gooey chocolate fudge base topped with chunks of Christmas chocolate, nuts and toasted marshmallows. 
Ingredients

100g (3 1/2oz) unsalted butter, chopped into pieces

200g (7oz) dark chocolate (70% cocoa solids), chopped into pieces

2 large eggs

150g (5oz) light brown sugar

2 tsp vanilla extract

75g (3oz) ground almonds

75g (3oz) plain flour

1/2 tsp bicarbonate of soda

pinch salt

75g (3oz) large marshmallows, halved

100g (3 1/2oz) leftover Christmas chocolate, roughly chopped

50g (2oz) mixed nuts, roughly chopped