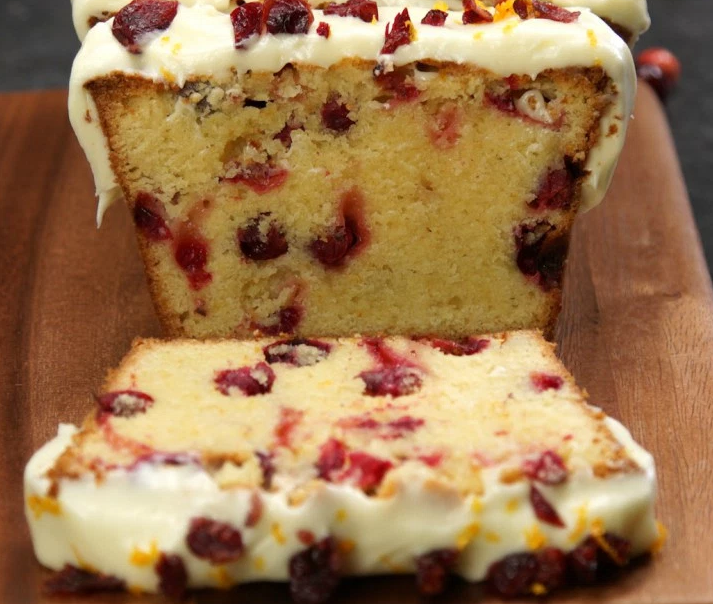 What an amazing cake to make is this cranberry and orange pound cake .. so good to make to have with a cup of tea .. I love a slice of cake in the afternoon over the weekend .. a really great tea party treat that I just know you will love .. it looks good doesn't it ?
This great recipe has been brought to you by TipHero on YouTube and http://tiphero.com/, thanks for sharing this recipe with us
Here below is  a list of the ingredients you will need from the website and the video tutorial  from YouTube
This tasty take on the classic basic cake adds that classic Christmas fruit and some zesty citrus for a colorful, beautiful dessert everybody will love. When it's topped with a perfectly creamy frosting, it's absolutely to die for.
Cranberry Orange Pound Cake
Serves 8
Prep Time: 25 minutes
Total Time: 1 hour 45 minutes
Ingredients
1-⅔ cups all-purpose flour
¼ teaspoon kosher salt
½ teaspoon baking powder
½ cup unsalted butter
1-½ tablespoons orange zest, divided
1-½ cups granulated sugar
½ cup mascarpone
3 eggs
½ cup heavy cream
1 teaspoon vanilla extract
2 cup fresh cranberries
3 tablespoons dried cranberries
ORANGE CREAM CHEESE FROSTING
¼ cup unsalted butter, room temperature
4 ounces cream cheese, room temperature
1 cup powdered sugar, sifted
4 teaspoons orange juice
To Get The Recipe :http://tiphero.com/cranberry-orange-pound-cake/