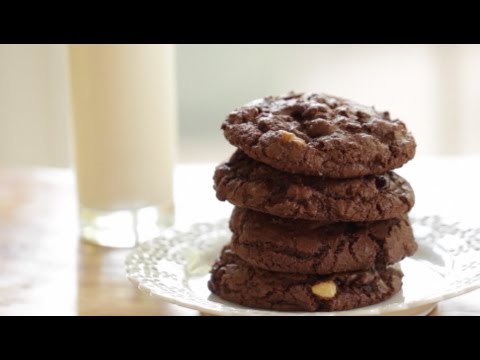 I really love making cookies and chocolate ones well that is me hooked so when I came across this amazing recipe for double chocolate chunk cookies well I just had to share this recipe with you , they look so amazing and would be just perfect to have with that mug of hot chocolate
This great recipe is brought to you by Beth from Entertaining With Beth on YouTube, thanks for sharing this recipe with us
Here below is the recipe and the video tutorial to follow both from the YouTube channel
BETH'S DOUBLE CHOCOLATE CHUNK COOKIE RECIPE
Makes 1 Dozen Cookies (12 3-inch cookies)
INGREDIENTS:
½ cup (120 g) butter
4 ounces (113 g) bittersweet chocolate
1 ¼ cup (250 g) sugar
2 eggs
¾ tsp (3.75 ml) vanilla
1 cup (120 g) flour
2/3 cup (70 g) unsweetened cocoa powder
½ tsp (2.5 ml) baking soda
½ tsp (2.5 ml) salt
½ cup (75 g) chopped bittersweet chocolate
½ cup (75 g) dried cherries
½ cup (75 g) walnuts
METHOD:
Pre-Heat oven to 350F (175C)
Melt butter and 4 ounces (113 g) bittersweet chocolate in a large bowl in the microwave at :30 increments until melted. Stir to cool.
Add sugar, eggs and vanilla. Set aside.
In a smaller bowl whisk together flour, cocoa powder, baking soda and salt. Add dry ingredients to the chocolate mixer in thirds and stir to combine.
Add in chopped chocolate, cherries and walnuts. Stir to combine.
Scoop out batter with an ice cream scoop onto a baking sheet lined with parchment paper. Only place 6 cookies to a tray allowing room to spread.
Bake 350F 15-17 mins. Allow to cool slightly and then transfer to a cooling rack. Then devour.