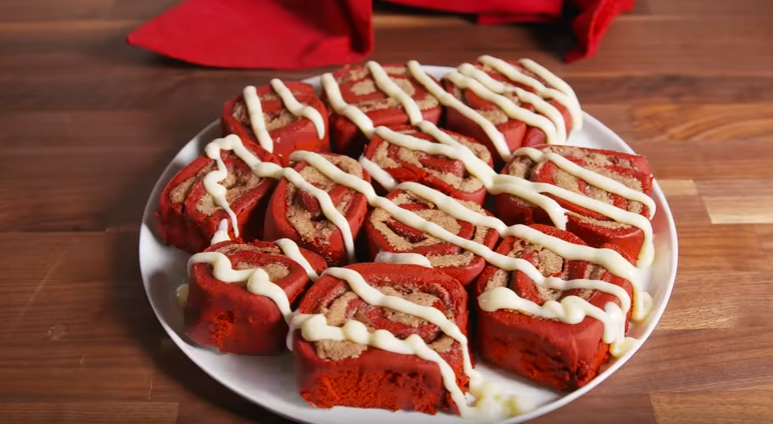 There is nothing quite starting the day off with something yummy so I think I am onto a winner here with these red velvet cinnamon rolls, just perfect for that amazing breakfast or brunch to have with fresh fruit etc
This great recipe has been brought to you by Delish on YouTube , thanks for sharing this recipe with us
Here below is the recipe plus the video tutorial to watch
This sweet mash-up is hands down the most delicious way to eat cinnamon rolls.
DIRECTIONS
1. Preheat oven to 375 degrees F.
2. Butter a 9"x13" pan and set aside.
3. In a small bowl, combine warm water and yeast. Allow to sit and bloom, 10 minutes. Mixture should be foamy.
4. Once yeast is active, add to the bowl of a stand mixer. Add milk, cake mix, flour, and salt. With the dough hook attached, mix on low until dough comes together and starts to pull away from the sides, 5 minutes. (Alternatively, you can mix all ingredients in a large bowl and knead the dough by hand on a well-floured surface).
5. Move dough to a large bowl and cover with plastic wrap. Let sit until almost doubled in size, about 1 hour.
6. Meanwhile, make filling: In a large bowl, mix together butter, sugars, and cinnamon until well combined.
7. Turn dough onto a floured surface and roll into a large rectangle. Spread filling over the dough and roll up into a long log. Slice into 15 rolls. Place rolls into prepared pan and bake until golden, 18-20 minutes.
8. In a large bowl, make cream cheese icing: Beat together butter, cream cheese, sugar, vanilla, and milk. Mixture should be pourable. Drizzle icing over rolls and serve immediately.
INGREDIENTS
DOUGH
1/2 c. warm water
1 envelope active dry yeast
3/4 c. warm milk
1 package red velvet cake mix
2 1/2 c. all-purpose flour
Pinch kosher salt
FILLING
1/2 c. (1 stick) unsalted butter, softened
1/2 c. brown sugar
1/2 c. granulated sugar
1 tsp. cinnamon
CREAM CHEESE ICING
1/2 c. (1 stick) unsalted butter, softened
8 oz. cream cheese, softened
1 c. powdered sugar
1/2 tsp. vanilla extract
1/4 c. milk