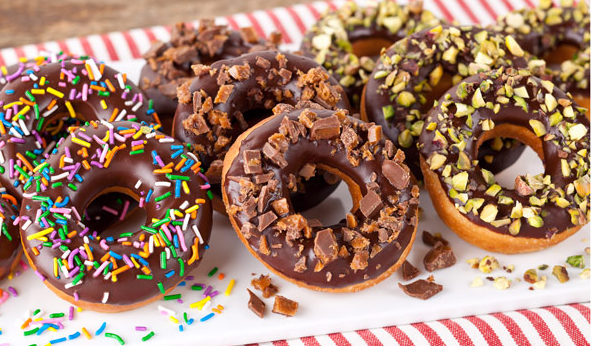 If you are a fan of glazed donuts then why not try these chocolate ones that look so delicious ..  and seeing as today is National Glazed Doughnut Day I wanted to find you a recipe that I know you will love
There are two recipes for you one is the recipe for  All-Purpose Donut Dough mix and the other is  shows you how to glaze them
Really great treat to make for your family or friends .. I really hope you enjoy making these amazing donuts
These great recipes have been brought to you by CBC Food on YouTube and on the website cbc.ca website , thanks for sharing them with us
 For the All-Purpose Donut Dough mix
Worth the effort, these yeast-raised donuts are incredibly light and fluffy.

Transform this All-Purpose Donut Dough into Vanilla Sugar Donut Holes, Chocolate Glazed Donuts, Jelly Donuts, Lemon Meringue Donuts.
INGREDIENTS
1 package (1/4 ounce) active dry yeast
1 tbsp. sugar, for proofing
1 cup homogenized milk, warmed
4 cups all-purpose flour
1 tsp. salt
1 egg
2 egg yolks
1/4 cup sugar
2 tbsp. marsala
1/3 cup butter, melted (unsalted)
To get the recipe here :http://www.cbc.ca/inthekitchen/2013/10/all-purpose-donut-dough.html
 Recipe for Glazing The Donuts 
Dipped in a rich dark chocolate glaze, these donuts will definitely disappear quickly.
INGREDIENTS
Chocolate Glaze
4 ounces dark or semi-sweet chocolate, finely chopped
2 tbsp. butter
1 tbsp. corn syrup (optional)
Assembly
All-Purpose Donut Dough
Flour
Oil, for frying
Candy sprinkles, chopped nuts, toffee bits or shredded coconut
To get the recipe :http://www.cbc.ca/inthekitchen/2013/10/chocolate-glazed-donuts.html