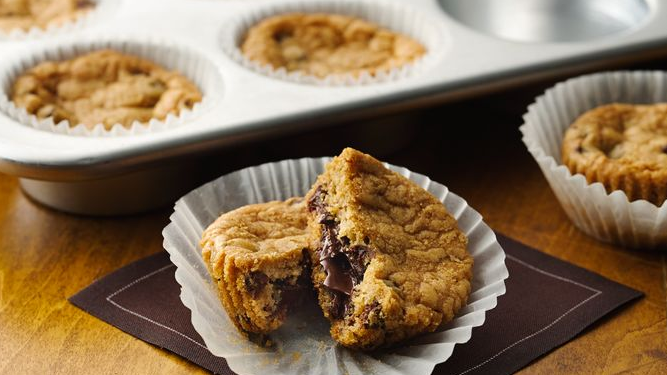 I love chocolate chip cookies so  wanted to find some recipes that are chocolate chip with a variation to them and I found a few like this one Deep-Dish Secret Center Chocolate Chip Cookies.. that look so delicious .. they would be so good to make over a weekend to have with mugs of hot chocolate or latte
chocolate chip cookies are  mostly a drop kind of cookie that did originate  from the United States and has  chocolate chips as its distinguishing ingredient.
A  traditional chocolate chip cookie recipe is a  dough composed of butter and both brown and white sugar semi-sweet chocolate chips, a candy. there are many variations  with other types of chocolate as well as additional ingredients such as nuts or oatmeal.
What I love about this cookie recipe is it using a brought cookie dough which is great when you want a fast cookie recipes at your fingertips of course you could make a your own cookie dough if you wish
This great cookie recipe has come from tablespoon.com website, thanks for sharing it with us
Here below is an excerpt and a list of the ingredients you will need
It's easier than easy, and so fun to watch friends bite in and find the surprise: an extra hit of rich chocolate buried in the middle of already-amazing cookies. Heaven. On. Earth.
Only two ingredients for easy chocolate chip cookies with molten chocolate centers. Perfectly delicious topped with whipped topping or ice cream!
Ingredients
1 roll (16.5 oz) Pillsbury™ refrigerated chocolate chip cookies
1 bar (4.25 oz) dark sweet chocolate